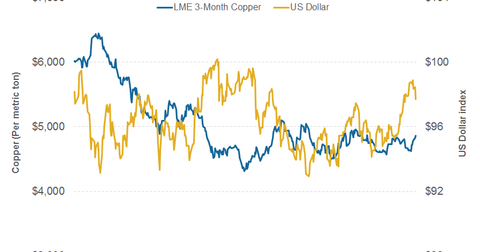 Elections, the Dollar, and Freeport: Is There a Connection?
By Mohit Oberoi, CFA

Updated
Elections, the dollar, and Freeport
In this article, we'll explore how the economic policies of Donald Trump and Hillary Clinton could impact the US dollar (UUP). We'll also analyze what this could mean for commodities such as copper and gold.
Note that earnings of Freeport-McMoRan (FCX) and other copper producers such as Rio Tinto (RIO) (TRQ) and BHP Billiton (BHP) are sensitive to copper prices.
Article continues below advertisement
Trump's policies
Donald Trump feels that US interest rates are "artificially low." As the president, Trump could push for higher interest rates. Higher rates could strengthen the US dollar. 
Copper, like most other commodities, has a negative correlation with the US dollar. The reasoning behind this relationship is straightforward: Since most commodities are priced in US dollars, a strong dollar makes commodities relatively costly in other currencies.
Furthermore, in the short term, some emerging market currencies could come under pressure given Trump's stance on imports. The sell-off in emerging market currencies could also strengthen the US dollar. However, in the long term, if we see a rise in national debt under Trump, the US dollar could come under pressure.
Clinton's policies
Under the presidency of Hillary Clinton, the current low-interest rate environment could continue for a longer period of time. This would prevent the greenback from rising. Clinton's economic policies are expected to be a continuation of the current establishment's policies, unlike Trump, who's projected as an anti-establishment candidate.
In the next and final article of this series, we'll see how OPEC's (Organization of the Petroleum Exporting Countries) meeting could impact Freeport this month.