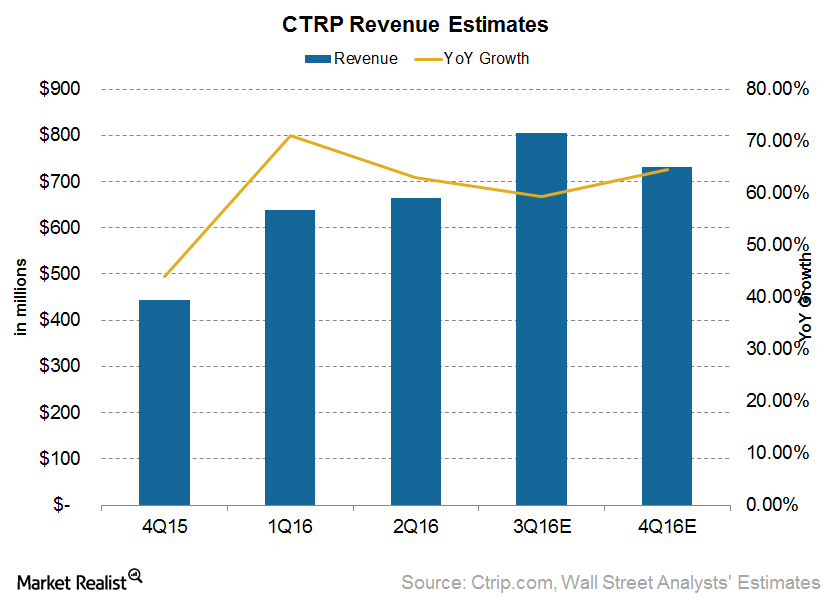 Can Ctrip Continue to Grow Its Revenues in 2016?
For 3Q16, analysts are estimating that CTRP's (CTRP) revenue will grow by 63% to $811 million, including sales from Qunar (QUNR).
Analyst estimates
For 3Q16, analysts are estimating that Ctrip.com International's (CTRP) revenue will grow by 63% to $811 million, including sales from Qunar (QUNR). Analysts expect this revenue growth to continue in 4Q16 at 67% to reach $734 million. This would mean a full-year revenue growth of 69%, which wouldn't be comparable to 2015, given CTRP's eLong sale and QUNR partnership.
This revenue growth expectation is much higher than the 15%, 19%, and 3% that analysts estimate for peers Priceline (PCLN), Expedia (EXPE) and TripAdvisor (TRIP), respectively. Investors should, however, remember that these peers are not strictly comparable to Ctrip due to geographical differences. Ctrip operates primarily in the fast-growing Chinese market.
It's also important to analyze analyst estimates before investing in a particular stock because analyst estimates act as a proxy for what's being priced into the stock and often serve as an effective first screener for investors.
Article continues below advertisement
Article continues below advertisement
Growing travel industry in China
China's growing middle-class population and increasing disposable income have led to a surge in Chinese travel market, so much so that it has now become one of the most important travel markets in the world. While China's GDP has reached 60% of the US GDP, its leisure travel industry is just one-third of the US leisure travel industry.
China's online travel market is expected to continue its high double-digit growth and reach $75 billion by 2017. CTRP is well placed to capture this growth.
Increasing Internet and mobile penetration
Internet usage in China is also rising. Only 52% of China's population uses the internet, as compared to 88.5% in the US, and users are also shifting to mobile. Both of these trends bode extremely well for China's biggest OTA (online travel agency) player.
Guidance
CTRP's management has guided a 70%–75% revenue growth for the third quarter of 2016. Notably, investors can gain exposure to Ctrip.com by investing in the First Trust NASDAQ-100 Ex-Technology Sector Index Fund (QQXT), which invests 1.5% of its total holdings in Ctrip.com.
Now let's look at Ctrip's biggest revenue contributors by segment.