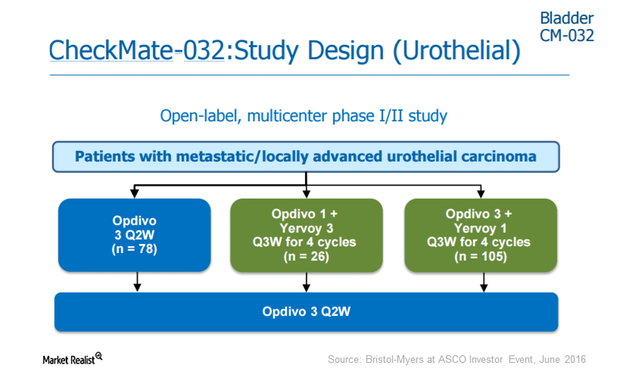 Bristol's Opdivo Has One Eye on Advanced Bladder Cancer
After its 3Q16 earnings, there were multiple positive triggers for Bristol-Myers Squibb (BMY) stock.
Bristol's positive studies in bladder cancer
After its 3Q16 earnings, there were multiple positive triggers for Bristol-Myers Squibb (BMY) stock. Since its earnings on October 27, 2016, the stock has already risen 15% as of November 17. One recent catalyst for this was the CheckMate-032 study, which investigated the Opdivo-Yervoy combination.
But Bristol's Opdivo as a monotherapy was already under review for the indication of bladder cancer. On October 21, the FDA (US Food and Drug Administration) accepted Bristol's sBLA (supplemental Biologics License Application) for Opdivo for treating mUC (metastatic urothelial carcinoma) patients. With priority review status and a Breakthrough Therapy designation, Opdivo is set to add another approved label to its arsenal. The FDA action date for the application is March 2, 2017.
Article continues below advertisement
Article continues below advertisement
CheckMate-032
On November 12, Bristol presented a positive CheckMate-032 data on Opdivo (nivolumab) and Yervoy (ipilimumab) combination as second-line therapy in patients with locally advanced mUC. The positive data suggested a further study for the combination.
CheckMate-032 is Phase 1/2 trial investigating safety and efficacy profile of Opdivo, or Opdivo-Yervoy in metastatic solid tumors. During the study, the subjects were treated with two different dosing regimens of the Opdivo-Yervoy combination.
Opportunities in bladder cancer
Urothelial carcinoma accounts for 90% of overall bladder cancer cases. With 430,000 new cases diagnosed each year, bladder cancer remains the ninth most commonly diagnosed cancer globally. Roche's (RHHBY) Tecentriq has already been approved for treating bladder cancer, while AstraZeneca's (AZN) Durvalumab and Pfizer's (PFE) Avelumab are currently being studied for the indication.
Interestingly, Merck's (MRK) Phase 3 trial KEYNOTE-045, which investigated Keytruda in mUC patients, also met its primary endpoint of OS (overall survival) in October 2016. So it appears that these three companies are going to share the bladder cancer market as well.
If you want to invest in the highly growing immuno-oncology market, you might check out the Health Care SPDR ETF (XLV), which has ~3.5% of its total assets in Bristol.
Continue to the next part for a closer look at other recent Bristol wins.