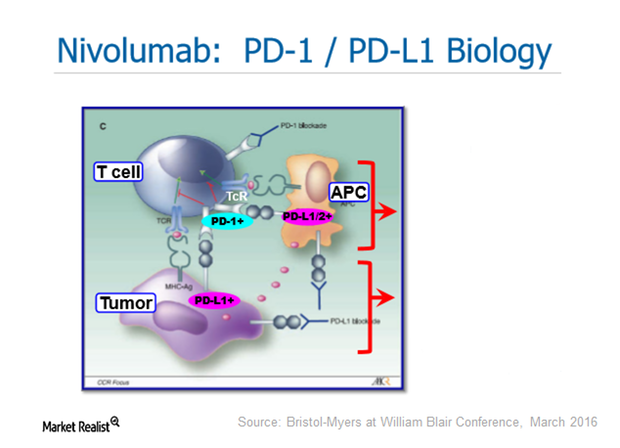 Brace Yourself: AstraZeneca Could Be a Fourth Entrant into the PD-1/PD-L1 Drug Class
Competition in PD-1/PD-L1 class
The PD-1 (programmed death-1)/PD-L1 (programmed death-ligand 1) class of drugs consists of Bristol-Myers Squibb's (BMY) Opdivo, Merck's (MRK) Keytruda, and Roche's (RHHBY) Tecentriq. But we could be seeing one more addition—AstraZeneca's (AZN) Durvalumab. That said, for the time being, the competition seems to be far off, given the setbacks facing Durvalumab.
By blocking the PD-1/PD-L1 pathway, T cell functions can be restored. This class has been a major revolution in immuno-oncology space, and analysts estimate that overall PD-1/PD-L1 class drugs might total $35 billion revenues at their peak. This presents the significant opportunity for the particular class.
Article continues below advertisement
AstraZeneca's Durvalumab
Durvalumab's trial for head and neck cancer is on partial hold by the FDA (US Food and Drug Administration) after an adverse event related to bleeding in two clinical trials. The drug is also being studied for the indication of the second-line PD-L1 positive lung cancer. AZN expects the data for the study to be available by 1Q17.
There have also been combination studies with Tremelimumab for the indication of head and neck cancer, pancreatic cancer, bladder cancer, solid tumors, gastric cancer, melanoma and lung cancer. But AstraZeneca will be a late entrant into a market already dominated by Bristol and Merck.
Bristol already holds nine approvals for Opdivo, and additional labels for the drug could boost Bristol's revenues and ultimately Bristol's share price. If you want an exposure to Bristol, you can invest in the VanEck Vanguard Growth ETF (VUG), which offers 1.04% weight to Bristol.
To be sure, lung cancer is a lucrative space for companies and still has huge growth opportunities. We'll discuss this in more detail in the next article.