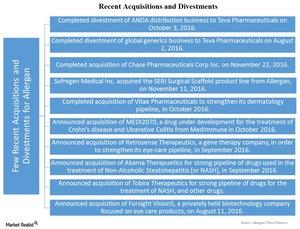 Allergan's News: Recent Acquisitions and Divestments
By Mike Benson

Nov. 29 2016, Published 1:26 p.m. ET
Allergan's growth strategy
Actavis acquired Allergan in March 2015. The company changed its name from Actavis to Allergan (AGN).
Allergan termed its new industry model as "growth pharma." It's based on identifying five characteristics that make the company grow at a higher rate and differentiate it from its peers—the big pharma companies growing at a slower pace. We'll discuss the growth pharma model in the next part.
The company plans to evolve as a focused brand growth pharma leader. As a result, it had many acquisitions and divestitures as listed below.
Article continues below advertisement
Recent changes
Actavis, now Allergan, had many small and large acquisitions and divestitures in the last quarter.
It completed the acquisition of Chase Pharmaceuticals—a Washington-based company providing research and development services for the treatment of Alzheimer's disease—on November 22, 2016. The deal size was ~$125 million.
Sofregen Medical acquired the SERI Surgical Scaffold product line, used for soft tissue support in plastic and other reconstructive surgical procedures, from Allergan on November 11, 2016.
It completed the acquisition of Tobira Therapeutics, a San Francisco-based pharmaceuticals company, for $1.5 billion on September 20, 2016. The deal adds Cenicriviroc and Evogliptin to Allergan's Gastroenterology pipeline and development stage programs for the treatment of Non-alcoholic Steatohepatitis.
It completed the acquisition of Akarna Therapeutics, a Cambridge, United Kingdom-based company providing ambulatory healthcare services, for 38.5 million pounds, on September 20, 2016.
Allergan completed the acquisition of Vitae Pharmaceuticals to strengthen its dermatology products pipeline, on September 14, 2016. The deal size was $552 million.
The company completed the acquisition of Retrosense Therapeutics, a US-based biotechnology company, on September 6, 2016. The deal size was $60 million. The acquisition adds novel therapies for eye-related diseases to Allergan's portfolio.
It announced the acquisition of Forsight Vision5, a privately held biotechnology company focused on eye care products, on August 11, 2016.
Apart from these acquisitions and divestments, Allergan announced the completion of its initial share repurchase program for $5 billion on November 2, 2016. It expanded its previously announced share repurchase program to $15 billion instead of $10 billion.
Investors can consider ETFs like the Vanguard Healthcare ETF (VHT) which holds ~2.9% of its total assets in Allergan, 3.2% in AbbVie (ABBV), 3.9% in Bristol-Myers Squibb (BMY), and 6.9% in Pfizer (PFE).