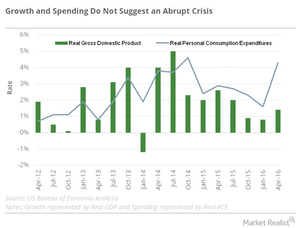 Where Are We in the Debt Cycle?
By Surbhi Jain

Nov. 22 2019, Updated 6:21 a.m. ET
Ray Dalio doesn't see abrupt crisis
Back in 2007, Ray Dalio's economic principles template "signaled that we were in a bubble and a debt crisis lay ahead." However, Dalio doesn't "see such an abrupt crisis in the immediate future." He has provided two reasons he holds this belief.
Article continues below advertisement
"Most economies are near the mid-points of the short-term debt cycles"
In the short-term debt (TLT) (LQD) (BND) cycle, as Ray Dalio explains in his economic principles template, spending is constrained only by the willingness of lenders and borrowers to provide and receive credit. When credit is easily available, such as after a financial crisis, there is an economic expansion. When credit isn't easily available, there is a recession. Since we're at a time when the US (IVV) (VOO) central bank is looking to tighten, meaning that credit is not as easily available, we are probably at the midpoint of the short-term debt cycle. Growth rates, as Dalio points out, are also "neither dangerously rapid nor dangerously slow – i.e. the cyclical influences are close to being in equilibrium."
"Debt growth rates in the developed countries have been roughly in line with income growth rates"
Debt has been prevailing in most developed (EFA) (VEA) economies. However, if we look at income growth rates, things don't look so bad. Income has risen thanks to monetary easing measures introduced by central bankers. Moreover, the debt load that analysts and investors find alarming is largely in the hands of central bankers themselves. Extensive bond-buying programs that were put in place along with other monetary policy measures have led to the expansion of most central bankers' balance sheets. The trick here is that central bankers can always roll the debt forward.