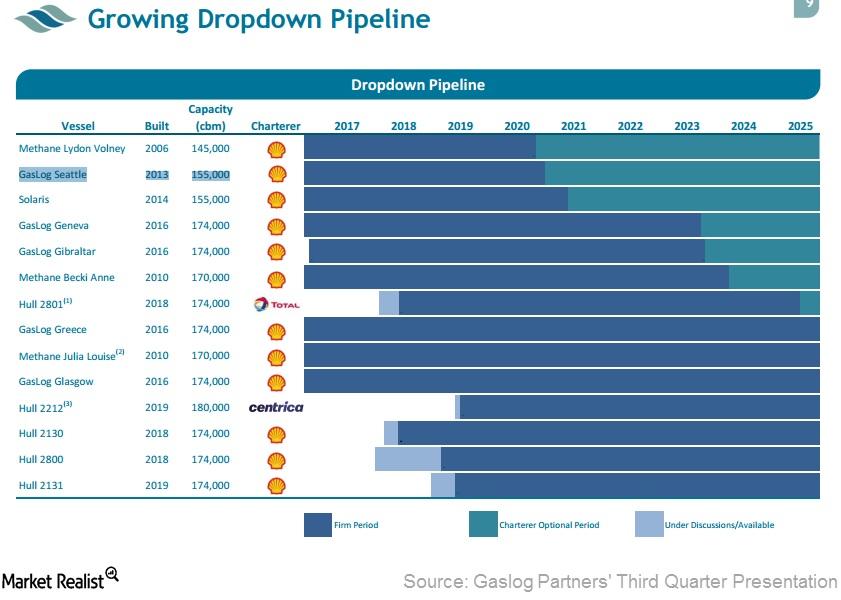 What Are GasLog Partners' Asset Dropdown and Dropdown Options?
GasLog's new contract
GasLog (GLOG), GasLog Partners' (GLOP) general partner (or GP), has entered into a seven-year time charter contract with Total, which will commence in mid-2018. It also acquired a seven-year time charter contract with Centrica, one of the largest suppliers of gas and electricity in the United Kingdom. This contract will commence in 2H19. How does this benefit GasLog Partners?
Article continues below advertisement
Dropdown pipeline
After the recent time charter contracts GasLog entered, GasLog Partners now has the right to acquire 13 modern LNG (liquefied natural gas) carriers. Each vessel has a firm charter period ranging from 2020 to 2029, representing ~$270 million in total annual EBITDA (earnings before interest, tax, depreciation, and amortization). The new contracts diversify GasLog Partners' potential customer base.
What is asset dropdown?
A dropdown of an asset is actually a sale transaction between the GP and LP (limited sponsor). In this case, the GP is GasLog and the LP is GasLog Partners. The sale of an asset is executed at an agreed upon price, generally set as a multiple of the annual EBITDA the asset is expected to generate.
The purchase is financed by the LP using a combination of cash, revolving credit, debt, and equity. Asset dropdown is a win-win situation for both parties. The LP's benefit is that in most cases, the structure of dropdown will be immediately accretive to DCF (distributable cash flow). The efforts and money needed to build an asset and obtain long-term contracts are borne by the GP.
On the other hand, the GP benefits because it's able to monetize assets where a significant amount of capital may be tied up. Often, in such partnerships, the parent retains a large portion of LP units. In this way, the GP receives a steady and growing revenue stream from its stake in the LP.
Other similarly structured companies in the LNG carrier industry are Golar LNG Partners (GMLP), Golar LNG (GLNG), Höegh LNG Partners (HMLP), and Höegh LNG Holdings (HLNG).
Investors interested in broad exposure to industrials stocks can invest in the SPDR Dow Jones Industrial Average ETF (DIA).