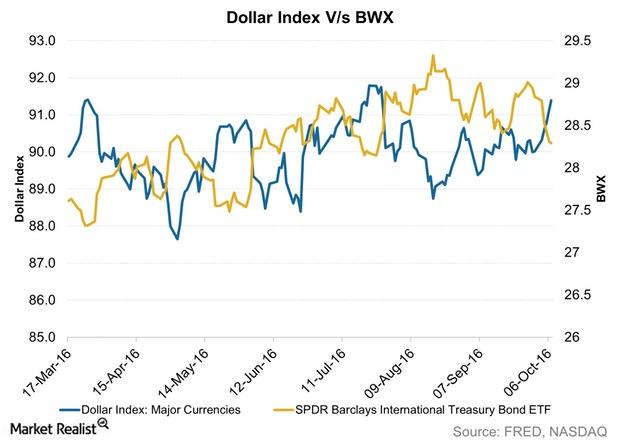 How Does a Strong Dollar Impact International Bonds?
The dollar's impact on bonds
When we talk about the relationship between the US dollar (UUP) and bonds and how currency movements impact bonds, we're essentially talking about international bonds.
A change in the US dollar impacts investments in international bonds and bond funds such as the iShares International Treasury Bond ETF (IGOV), because when you invest in an internal bond or instrument, the underlying bond is denominated in the domestic currency. This currency could be the euro, the British pound, or the Japanese yen, among others.
Article continues below advertisement
In this way, if you're investing in such bonds due to a favorable interest rate differential, an adverse movement in the currency in which the bond is denominated may not only nullify the favorable differential, it could lead to losses. Even if the value of the bond in question remains unchanged during the holding period, currency movements will likely lead to either a profit or a loss.
Impact on international bonds
The graph above shows the change in the US Dollar Index as provided by the board of governors of the Federal Reserve and the movements in the SPDR Barclays International Treasury Bond ETF (BWX) in almost the past seven months. The relationship between the two looks inverse.
A strong dollar hurts international bond funds, as its peers are weakening, which hurts the value of the bonds denominated in these weakening currencies. On the other hand, a weak dollar is beneficial to international bonds and bond funds.
Meanwhile, higher interest rates, which drive the dollar up, also hurt domestic bonds and funds. Higher-duration bonds (TLT) become unpopular due to interest rate risk, and investors move to shorter duration bonds (SHY) and pare their overall exposures to the fixed income asset class.
Keeping a tab on the dollar may be wise for investors with short- to medium-term investment horizons. A sustained trend can impact long-term investors as well.