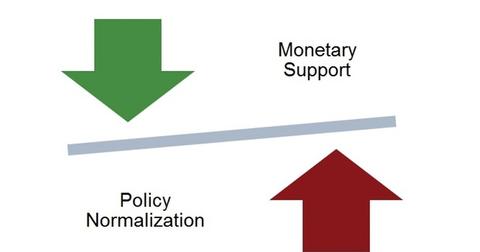 Policymakers Are Getting Vocal about the Fed's Credibility
By David Ashworth

Oct. 18 2016, Published 3:28 p.m. ET
Credibility is an issue
The issue of the Fed's credibility is not a new one. The effectiveness of the prolonged monetary accommodation has sparked a lot of debate in the past. After the taper tantrum of 2013, market participants had started expecting the federal funds rate to be on a path of modest though not speedy normalization. However, even after several allusions, the first rate hike came about only towards the end of 2015. Even at that time, some policymakers had expressed concerns that the central bank's credibility may be at stake.
Article continues below advertisement
Since the first rate hike in nearly a decade, the pace of rate hikes had been expected to pick up. But worries over China, concerns over domestic economic activity, and then the Brexit vote have contributed to a seemingly incessant delay in the second rate hike. When 2016 began, the number of rate hike expected were as high as five, translating up to 125 basis points. At present, we're awaiting one and will most probably end the year with the federal funds rate just 25 basis points higher than a year ago.
On several levels
The credibility of the Fed comes into question on several levels. First, it's all talk and no action. Backing up your word is important, and the Fed has done very little to convince markets that it can do that.
Second, the developments call into question the Fed's forecasting ability. No one can accurately predict the future, but if a few enlightened minds have been entrusted to adjust monetary policy according to the evolving situation, then their failure to do so questions their ability to successfully guide the country's monetary stance.
These two concerns sometimes give us the feeling that policymakers aren't sure what to do and don't have a plan. This doubt does serious damage to their credibility. Though markets are now taking policymakers' aggression a bit more seriously, neither equities (IVV) (MDY) (IJH) nor fixed income (BSV) (GOVT) will likely pay much attention to their aggression.
Apart from credibility, there was also a worry regarding a new addition to the statement. Let's look at that in the next part of this series.