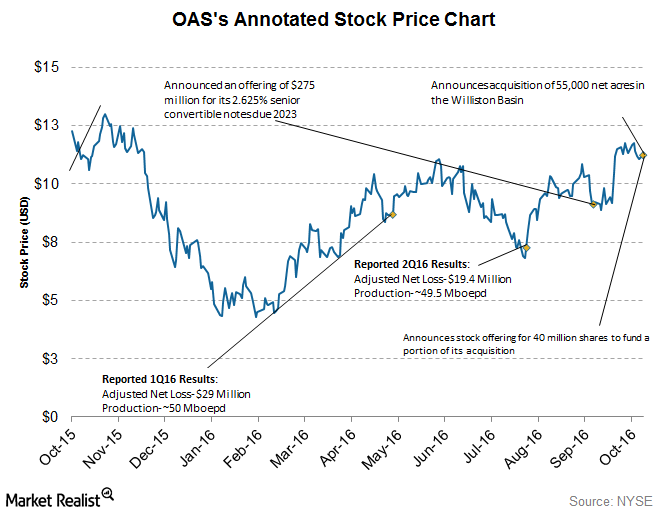 How Has Oasis Petroleum's Stock Performed This Year?
Oasis Petroleum's stock performance
Oasis Petroleum's (OAS) stock has shown an uptrend for the most part of 2016. Its stock dipped between June 2016 and August 2016, but it seems to have recovered and has again been showing an uptrend, as you can see in the graph below.
Year-over-year, Oasis Petroleum's stock has fallen by ~8%. Crude oil prices have risen ~6% in the same period. Meanwhile, the broader energy ETF—the Energy Select Sector SPDER ETF (XLE)—has risen 0.33% in the same period.
Article continues below advertisement
Article continues below advertisement
OAS's recent stock offering
On October 18, 2016, OAS launched an equity offering to fund a portion of its Williston Basin asset acquisition from SM Energy (SM). The company anticipated raising $518 million by selling 48 million shares. The offering included a 30-day option for underwriters to purchase an additional 7.2 million shares. OAS's press release noted, "The offering is not conditioned on the consummation of the Acquisition, and if the Acquisition does not occur, the net proceeds will be used for general corporate purposes, which may include funding a portion of the Company's 2017 capital budget."
In a bid to boost liquidity amid lower prices, several companies have announced stock offerings to strengthen their positions, Oasis included. Other upstream companies to have taken this action include Newfield Exploration (NFX) and EQT Corp. (EQT).
Many upstream companies, including OAS, have also hedged their production volumes in 2016 to protect themselves against volatility in energy price movements. Approximately 80% of OAS's estimated 2016 oil volumes are hedged at an average WTI (West Texas Intermediate) price of $49 per barrel.