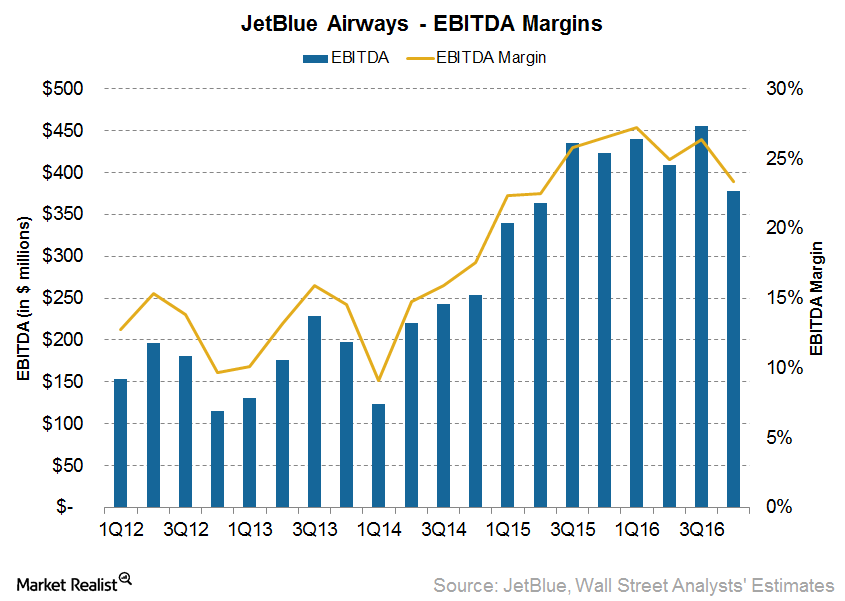 Why Does JetBlue Expect Unit Costs to Rise in 4Q16?
JetBlue's Operational costs
For the third quarter of the year, JetBlue Airways' (JBLU) operating expenses—excluding fuel and profit sharing—rose 3.1% to 7.86 cents. This total was higher than JetBlue's guidance of a 1%–3% rise in costs. The rise resulted from unexpected maintenance costs in the quarter.
Article continues below advertisement
Fuel savings continue
JetBlue's total fuel expenses for 3Q16 fell 14.4% in 3Q16 to $293 million. Fuel prices fell 20% YoY to $1.48 per gallon better than management's own guidance of $1.52 cents. As a result of the fuel savings, total unit costs still fell 3% to 9.99 cents.
Outlook 
JetBlue has increased its hedged position to 25% of total fuel consumption for the second half of 2016. Management expects fuel costs to fall to $1.63 in 4Q16 from the $1.68 per gallon we saw in 4Q15.
So costs per available seat mile excluding fuel, or CASM ex-fuel, and profit sharing are expected to rise 4.5%–6.5% in 4Q16, including a 0.5% impact from Hurricane Matthew. For the full year 2016, CASM ex-fuel and profit sharing is expected to rise 0% to 1.5%, similar to the guidance at the end of 3Q16.
JetBlue also expects to see a $13 million impact on pretax profit due to Hurricane Matthew. This impact will have a slight effect on margins. However, investors should remember that if fuel prices fall further, JBLU could see further margin expansion, similar to other airlines like Delta Air Lines (DAL), United Continental (UAL), American Airlines (AAL), and Alaska Air (ALK). JBLU forms ~0.8% of the iShares S&P Mid-Cap 400 Growth ETF (IJK).