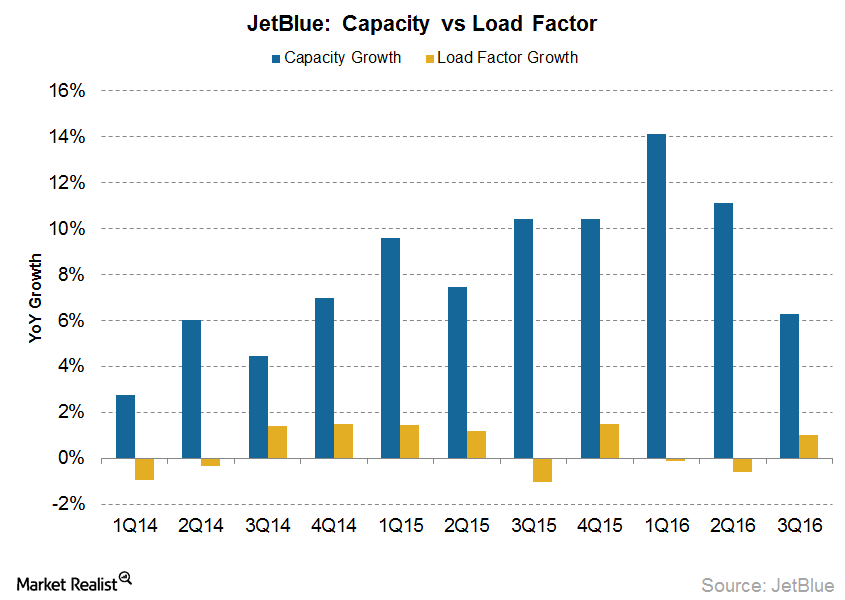 JetBlue Airways: Checking Up on Operational Performance in 3Q16
JetBlue's traffic growth
JetBlue Airways (JBLU) saw average traffic of about 11.9 billion passenger miles for the quarter, a 7.6% year-over-year increase, as a result of growing demand for its Mint service. For the nine months ending September 2016, traffic grew 10.5% to 34.4 billion miles.
Article continues below advertisement
Capacity
JBLU's capacity during the third quarter rose 6.3% to 13.8 billion miles—lower than its traffic growth in the same period. For the nine months ending September 2016, capacity grew 10.3% to 40.4 billion miles.
Utilization was flat
As capacity growth slows, capacity utilization (or load factor) across carriers is improving. JetBlue's load factor for the quarter improved by 1 percentage point to 86.3% compared to 85.3% in 3Q15. For the nine months ended September 2016, its load factor was flat at 0.1 percentage points and 85.2%. This flat utilization should help ease off some pressure on unit revenues.
Article continues below advertisement
Outlook
For 4Q16, JetBlue Airways expects a 3.0%–5.0% capacity increase compared to the fourth quarter of 2015. For 2016 overall, capacity is now expected to grow 8%–9% versus expected growth 8.5%–9% at the end of 3Q16 and the significantly lower 8.5%–10.5% growth expected at the end of 2Q16. The current guidance includes a 0.5% impact from Hurricane Matthew.
As we already discussed in our pre-earnings article, airlines across the industry are cutting capacity in the low-demand winter season in order to get unit revenues back on track. This trend, coupled with the growth of JetBlue's premium Mint service, may help increase revenues. Read the next part of this series to find out more.
Even after the capacity cut, the full-year growth will be higher than other carriers, like Southwest Airlines (LUV), Alaska Air (ALK), and Delta Air Lines (DAL). However, investors should remember that most of this growth already happened in 1H16. JBLU forms ~0.8% of the iShares S&P Mid-Cap 400 Growth ETF (IJK).