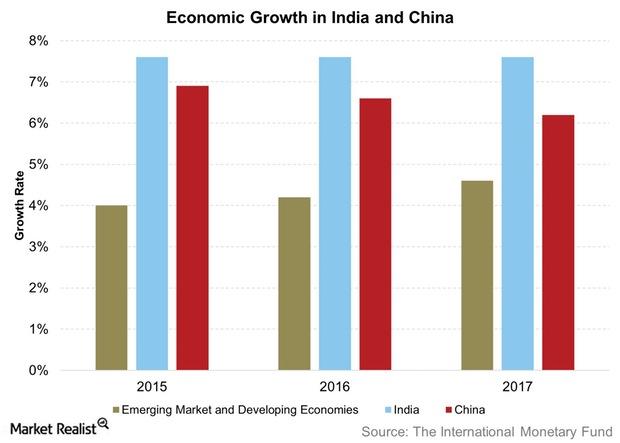 India's Economic Growth Strong, While China's May Be Stabilizing
India's growth forecasts revised
In its October World Economic Outlook, the IMF (International Monetary Fund) projected that India's economic growth would reach 7.6% in both 2016 and 2017. This rate is higher than the 7.5% growth forecast for both years in the IMF's April report and the 7.4% pace forecast in its July update.
The IMF further noted that India's economic output has remained strong due to substantial improvements in trade, impactful policy decisions, and improved external buffers. These factors have not only improved economic output but have also helped improve sentiment.
Article continues below advertisement
Article continues below advertisement
India-focused ETFs (EPI) (INDA) (PIN) have had a strong year so far, posting gains in or close to double digits. Investors would do well to have some exposure to stocks from the country, given its well-placed macroeconomic fundamentals. There might also be a negative impact on an eventual rate hike by the Fed, but fundamentals can be expected to catch up soon.
China to slow, possibly stabilize
Meanwhile, the IMF expects China's pace of economic growth to slow to 6.6% in 2016 from 6.9% in 2015, and it forecasts further deceleration to 6.2% in 2017. These projections are unchanged from the IMF's July update.
The October report noted that China's economic growth in 1H16 "stabilized close to the middle of the authorities' target range of 6.5%—7% for 2016." The primary reason for this stabilization was policy support and strong credit growth.
Viewing China's ongoing rebalancing favorably, the IMF noted that strong domestic consumption and increased activity in services is proof that the rebalancing is moving along as expected by the government.
China-focused ETFs (FXI) (MCHI) have had a good year so far because policy support has offered a helping hand to financial markets. However, China's shift from externally focused to internally focused growth is ongoing, and so investors would do well to exercise some caution when investing in Chinese equities.
India thus seems to be the clear leader in emerging markets, and combined with China, such markets are expected to pull global economic growth higher, counterbalancing the slowdowns we've seen in advanced economies.