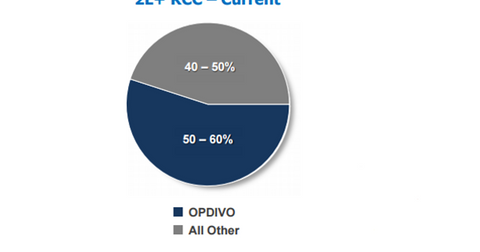 How Large of a Role Does Opdivo Play in Bristol-Myers Squibb's Success?
By Jillian Dabney

Updated
Opdivo as BMY's lead drug in second-line lung and renal cancer
Bristol-Myers Squibb's (BMY) lead drug Opdivo (nivolumab) has already won more than 80 global approvals. With 14 tumors ongoing and planned registrational trials, BMY clearly dominates the immuno-oncology market.
In the lucrative lung cancer space, Opdivo competes with Merck's (MRK) Keytruda. With the probable entry of Roche's (RHHBY) TECENTRIQ (atezolizumab) in the lung cancer space, there will be stiff competition in the space.
Article continues below advertisement
Opdivo's sales
During the first half of 2016, Opdivo's sales grew to reach $1.5 billion. Its US sales stood at $1.2 billion and non-US contribution remained at $307 million during the period. To understand the growth prospects for the drug, please read What Could Drive Sales from Bristol-Myers Squibb's Cancer Drug even Higher?
Opdivo has established itself as the standard of care in second-line lung cancer and second-line renal cancer. As we have discussed Bristol-Myers Squibb's (BMY) dominance in the lung cancer space in the previous article, let's look at its presence in the renal cancer and melanoma space.
In second-line renal cell carcinoma, Opdivo as monotherapy held 50%–60% of the market share in new patients during the four-week period ended February 26, 2016. BMY is trying to expand Opdivo and its combination regimen with Yervoy in multiple types of cancers such as urothelial cancer, colorectal cancer, hepatocellular cancer, and gastric cancer.
To understand the various areas beyond immuno-oncology where Bristol is expanding, please read our next article.
Opdivo and Yervoy combination in Melanoma
In first-line metastatic melanoma, Opdivo, Yervoy, and their combination held 30%–40% of the market share.
In the US, the Opdivo and Yervoy combination is the most prescribed regimen in first-line metastatic melanoma. There still exists an opportunity to develop a better regimen in the melanoma space, as not all melanoma patients are responding to the combination.
By investing in the iShares Dow Jones US Healthcare ETF (IYH), you may gain broad-based exposure to Bristol as the fund holds 3.17% of its assets in Bristol-Myers Squibb (BMY). Along with BMY, the fund holds ~7.0% of its assets in Pfizer (PFE).