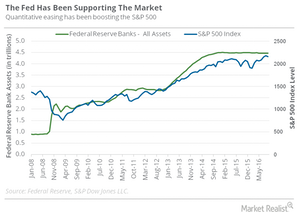 Jeffrey Gundlach: The Fed Has Been Supporting the S&P 500
The Fed has been boosting the market
Gundlach also believes it's interesting to look at the correlation between the size of the Fed's balance sheet and the S&P 500 (SPY) (SPXS) (SPXL) level. "It is uncanny how the when the Fed was doing its quantitative easing and expanding its balance sheet, it was also supporting the S&P 500," said Jeffrey Gundlach during his latest webcast, which highlighted turning points in the economy.
The point here is that the US stock market (IWM) (QQQ) did particularly well when QE (quantitative easing) was on. During the entire QE period, from late 2009 to late 2014, the S&P returned 17% annually. Since QE stopped, the S&P 500's total return is only about 4%. This clearly indicates that QE did indeed help the stock markets.
Article continues below advertisement
Article continues below advertisement
Asset managers share this view
Other prominent asset managers like Bill Gross, Carl Icahn, and Ray Dalio also share similar views about the Fed and the market. Bill Gross believes "every asset price is artificially elevated." Carl Icahn believes that low interest rates create investment bubbles. Ray Dalio has been cautioning investors about the "carry-price change trap."
Gundlach also shed light on the role of negative interest rates in supporting the stock market.