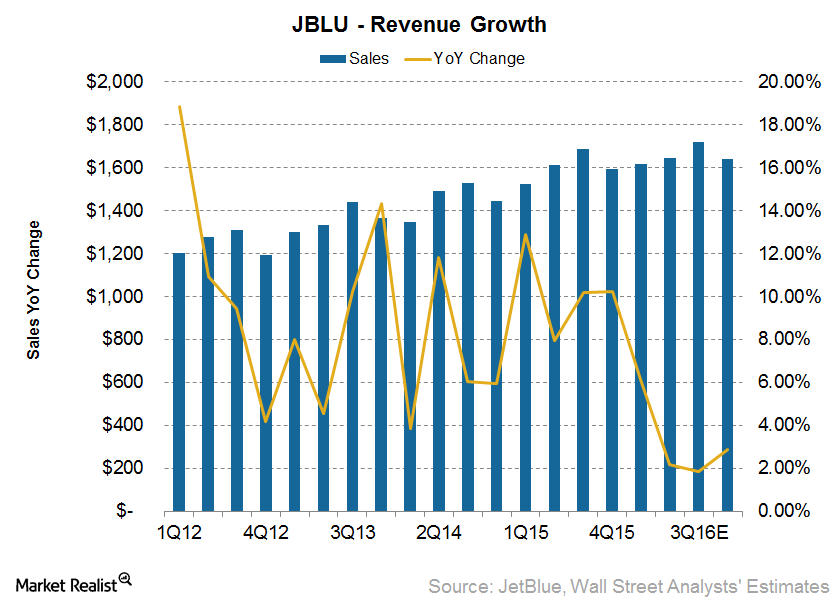 Do Analysts Expect JetBlue's Revenue to Rise in 3Q16?
Sales growth
Analysts expect JetBlue Airways' (JBLU) 3Q16 revenue to come in at $1.7 billion, a year-over-year rise of 2.2%. For 4Q16, analysts expect JBLU's revenue to be $1.6 billion, a rise of 1.8%.
These expectations would result in 2016 growth of 3% on total revenue of $6.6 billion. This growth is expected to continue, with revenue rising 6% in 2017 and 7.7% in 2018.
JBLU derives 90% of its revenue from its Passenger segment and 10% from the ancillary services it provides to passengers. In the past, JBLU has seen one of the highest revenue rises among the seven major airlines, including American Airlines (AAL), United Continental (UAL), Spirit Airlines (SAVE), Southwest Airlines (LUV), Delta Air Lines (DAL), and Alaska Air Group (ALK).
Article continues below advertisement
Unit revenue
The good news for investors is that JBLU's unit revenue may be getting back on track. Unit revenue is the revenue earned by an airline for flying one passenger for one mile. It's also known as passenger revenue per available seat mile (or PRASM).
Improved leisure travel has helped JBLU's unit revenue to fall. With demand at its peak, discounts were low, improving yields and thereby unit revenue. JBLU's unit revenue fell 2.5% in July, 5.5% in August, and 2% in September 2016. Thus, its 3Q16 unit revenue is expected to fall 3%–4%, significantly less than the 8.2% fall it saw in 2Q16.
Mint service
As part of its plan to increase its foothold in the transcontinental market, JetBlue will be increasing its premium fare Mint service on those routes. Mint is JBLU's premium service, boasting lie-flat seats, bigger TVs, and a free self-serve snack bar.
Outlook
Most airlines have plans to cut down their capacity growths in the low demand fall season. Reduced capacity growth and increased premium services could lead JetBlue to better-than-expected revenue growth.
JBLU forms 0.85% of the holdings of the iShares S&P Mid-Cap 400 Growth ETF (IJK).