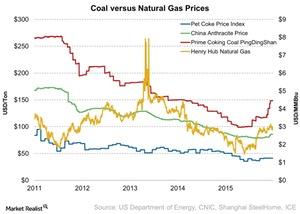 Coal Prices Remained Flat for the Week Ending October 7
By Adam Jones

Updated
Coal-based nitrogen
Producers in China primarily use coal as an input material to produce nitrogen, especially urea-based fertilizers. By contrast, natural-gas-based fertilizer producers in North America (NANR) have been benefiting from lower-costing natural gas. China is the world's biggest urea exporter, and so it's heavily impacted by price movements in coal.
Article continues below advertisement
Anthracite coal
Among the different categories of coal, anthracite coal is used to produce nitrogen fertilizers. For the week ending October 7, average weekly anthracite coal prices in China were flat over the previous week to $85.7 per metric ton. On average, anthracite coal prices in China have fallen 2% year-over-year, which isn't as steep as what Henry Hub has witnessed.
Remember, any rise in coal prices is positive for natural-gas based producers, especially when the prices of natural gas fall. Natural gas producers include CF Industries (CF), Terra Nitrogen (TNH), and Agrium (AGU).
Meanwhile, last week, the Chinese yuan fell 2 basis points against the US dollar. Due to this decline, Chinese coal prices seem to have changed when converted to the dollar.
CVR Partners (UAN) is based in North America and uses pet coke, a coal-like substance, to produce nitrogen fertilizers. Weekly pet coke prices for the week ending October 7 stood at $41.45—unchanged from the previous week.
In the next part, we'll discuss phosphorus fertilizers.