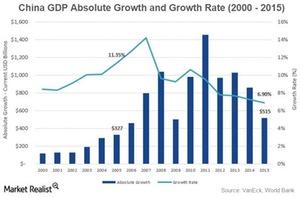 Where Does China's Economic Growth Stand?
By VanEck

Updated
China remains an important part of the world economy. While it may not be posting the double-digit growth numbers of a decade ago, we believe the country continues to offer interesting investment opportunities. Although recent economic growth rates have been in the single digits (6.90% in 2015 as shown in the chart below), in absolute terms this growth is extraordinary given that China's economy is far bigger than it once was. What was China's $1 trillion-sized economy in 2000 is now 12 times larger at more than $12 trillion based on the gross domestic product (GDP), putting China just behind the U.S. ($19 trillion).
Article continues below advertisement
Market Realist – China's economic growth trend
China is an integral part of the world economy (ACWI). Data from the Counselors' Office of Chinese State Council showed that China contributes around 25% of global economic growth at the current growth rate. Significant economic events in China (FXI)(CNXT) impact both developed (VEA) and emerging markets (EEM). China's economic growth was in the double digits a decade ago, as the chart above shows. However, current economic growth has slowed. Although China's growth rate has fallen, it remains higher than most developed countries—like the United States at 1.4% and Japan at 1.7%. However, India is ahead of China with a GDP growth rate of 7.6%.
China's economic growth could further decline. For the second quarter, which ended in June, China's economy grew 6.7%—higher than estimates from economists polled by Reuters. As Reuters reported, second-quarter GDP rose 1.8% sequentially. China's economic transition from manufacturing to consumption hasn't been going smoothly. We'll discuss this issue in the final part of this series.
This transition has been affecting the country's economy. China's 2Q16 GDP growth rate didn't come as a surprise. On July 4, state media agency Xinhua reported that Chinese Premier Li Keqiang said, "The Chinese economy was basically stable and that it was not easy to achieve Q1's 6.7 percent growth rate and that the economy would show continued steady development. We cannot expect China's double-digit growth stage to come back, however, the growth is stabilized in the changing economic environment." The world's second-largest economy is targeting growth of 6.5% to 7% for 2016.
Scroll down to read more about why you should consider China when evaluating any investment in emerging markets.