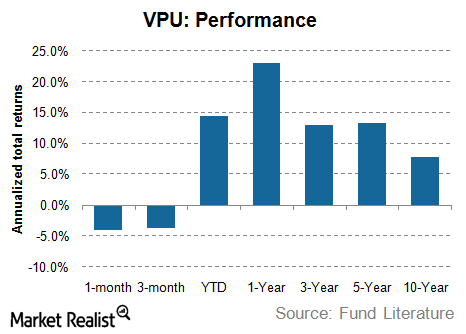 VPU Versus XLU: Which Utility ETF Is Better?
VPU: Performance
Utility ETFs have performed well in the last one year. The Vanguard Utilities Fund ETF (VPU) has been no exception to this. Compared to the Utilities Select Sector SPDR ETF (XLU), VPU's returns lagged in all periods under consideration. The funds operate almost under the same set of metrics, but the returns varied due to marginal differences in their portfolio structure.
Article continues below advertisement
Performance drivers
VPU's top ten holdings constitute nearly 50% of its portfolio, while XLU's top ten holdings account for nearly 60% of its portfolio. That shows that VPU has relatively higher exposure to mid-to-small-size utilities. The supplementary exposure of gas and water utilities push the fund's yield lower.
VPU versus XLU
Large-cap US regulated utilities (SO)(PPL)(DUK) generally yield much more than gas or water utilities (CGW). VPU has been trading at a yield near 3% while XLU yields 4.2%. The expected average earnings growth of VPU is 2.1% for the next couple of years, which is well below the industry average. XLU's expected average earnings growth is near 5% for the next half a decade.
The annual turnover ratio indicates the rate at which an ETF replaces its portfolio on an annual basis. The annual turnover ratio of VPU is 7%, while XLU's annual turnover ratio is 4%. The expense ratio for VPU is four basis points lower than XLU's. The expense ratio is the total percentage of assets used for all the expenses apart from brokerage and transaction fees.
The Vanguard Utilities Fund ETF is also available in the mutual fund form as the Utilities Index Fund Admiral Shares (VUIAX).