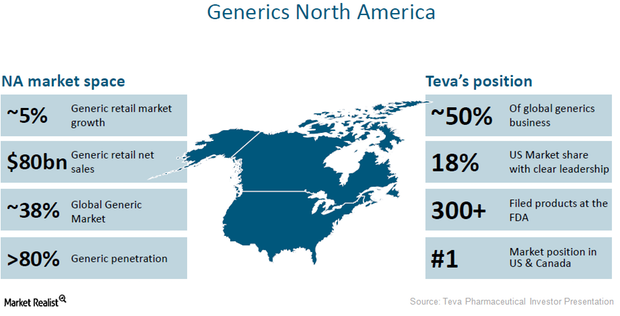 Teva's Share of the US Generics Market Could Boost Its Stock
Dominance in the US generics market
According to IMS Health, Teva Pharmaceutical Industries (TEVA) accounts for 18% of the US generic drug market. This share is significantly higher than those of Mylan (MYL), Novartis (NVS) (through its subsidiary Sandoz), and Pfizer (PFE), which account for ~10%, 7%, and 4%, respectively, of the US generic drug market.
Teva thus holds the top position in the generic pharmaceutical markets of US and Canada and earns about 50% of its total global generic business revenues from these markets. The company has also submitted more than 300 products for review to the FDA (US Food and Drug Administration), of which 100 are first-to-file applications.
Article continues below advertisement
With annual sales of around $80 billion and an annual growth rate of ~5%, North America is the biggest market for generic drugs in the world. Of every $10 spent on generic pharmaceuticals in the world, around $4 are being spent in North America. The penetration level of the generic pharmaceutical industry is more than 80% in the North American market.
Teva's strong presence in generics is expected to boost its share prices and could have a positive impact on the PowerShares International Dividend Achievers Portfolio (PID). TEVA makes up about 0.9% of PID's total portfolio holdings.
Services to customers
Teva's broad generic drug portfolio has the capacity to account for ~75% of retail stores earnings in the US. The company has also aligned its research pipeline with the interests of key customers like Walgreens Boots Alliance, Red Oak Sourcing, Econdisc, and a new combination of Mckesson and Walmart.
Notably, Teva has also been focusing on first-to-file products and on products last to exit the market to ensure that its customers make maximum profits.
For ongoing updates on this industry, keep checking in with Market Realist's Pharmaceuticals page.