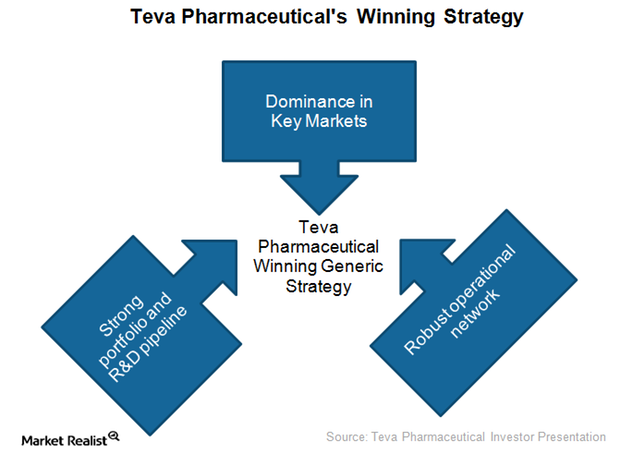 Winning? We Review How Teva Dominates Generic Drug Space
Winning formula
Increasing urbanization, aging population, changes in lifestyles, advances in diagnostic tools, and rising focus of governments to control healthcare costs have resulted in the development of an ecosystem that favors the growth of generic pharmaceutical industry across the world.
Teva Pharmaceutical Industries (TEVA) plans to take advantage of market dynamics and unmet demand in the generic pharmaceutical industry by implementing a three-pronged strategy that, if successful, could boost its share prices and the PowerShares International Dividend Achievers Portfolio (PID). PID has about 0.91% of its total portfolio holdings in TEVA.
Article continues below advertisement
Article continues below advertisement
Dominance in key markets
To compete with other generic pharmaceutical players such as Mylan (MYL), Pfizer (PFE), and Novartis (NVS) (through subsidiary Sandoz), TEVA has been selectively focusing on key markets. By expanding in 40 lucrative markets and becoming a top-ranking player in these markets, the company plans to boost its profit margins in future years.
This position also enables the company to attract and retain high-quality talent and also helps in timely product launches, further adding to Teva's growth prospects.
Strong portfolio and R&D pipeline
TEVA has focused on creating a robust R&D (research and development) pipeline, which helps the company launch new generic products. New launches are the driving force for the commercial success of any generic pharmaceutical company. Novel and differentiated products have been known to go through lower price erosion due to competitive pressures and changing regulations.
Robust operational network
TEVA has been keen on improving its operational network, which will enable the regular supply of both raw materials and finished goods for sale at optimal prices. Operational networks involve growth capacity, optimal cost base, and technical expertise to manufacture a range of products. TEVA plans to compete in the commodity generics segment, while also offering complex generics at affordable prices.
In the next part, we'll explore the value chain of Teva Pharmaceutical's generic business.