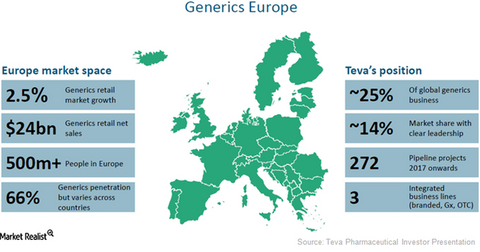 Teva Pharmaceutical Still Dominates the Generic Market in Europe
By Margaret Patrick

Updated
Teva's presence in the European Union
With a share of about 14%, Teva Pharmaceutical Industries (TEVA) is currently the top-ranking player in the European generic pharmaceutical market. The company boasts 272 drugs in its research pipeline as well as 1,400 applications submitted to multiple regulatory agencies. Teva has also launched 800 to 1,000 products in the European Union across multiple dosages and stock keeping units (or SKUs).
Its integrated business model across its branded, generics, and over-the-counter (or OTC) businesses is considered a key factor that's driving the company's growth in the European Union. This model has also enabled the company to pose strong competition to other generic players in the European Union such as Pfizer (PFE), Novartis (NVS), and Mylan (MYL).
Article continues below advertisement
The generic market in Europe
While the average annual growth rate of the European generic pharmaceutical industry has been modest at around 2.5%, Teva Pharmaceutical is confident about the growth opportunities in this market. This is because approximately 500 million people reside in the European Union. Additionally, the retail generic drug market in the European Union earns about $24 billion annually.
Despite having financial pressures, the healthcare systems in this market are striving to improve quality and increase drug access for patients. These factors coupled with increasing generic penetration in the market, which is currently at 66%, highlight the scale of opportunity available for Teva Pharmaceutical and other generic players in the European Union.
If Teva Pharmaceutical manages to realize these growth opportunities, its share price may rise. These opportunities may also help the share price of the Vanguard FTSE All-World ex-US ETF (VEU). Teva Pharmaceutical makes up about 0.50% of VEU's total portfolio holdings.
In the next part, we'll see how Teva Pharmaceutical has managed to become a leading player in the European generic pharmaceutical market.