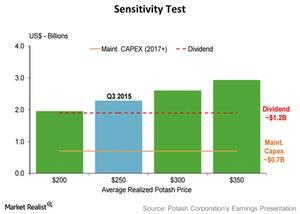 How Sensitive Is PotashCorp's Dividend to Potash Prices?
Sensitivity to dividends
In the last 12 months, PotashCorp (POT) has earned about 36% of its total sales from its Potash segment. This accounted for over 50% of the company's gross margin as a percentage of its Potash segment's total gross margin in the last 12 months of sales.
Article continues below advertisement
Revisiting dividend sensitivity
For PotashCorp to maintain dividends of $1.2 billion as well as capital expenditure (capex) of $700 million per year, its average realized prices need to be above a certain level. Keep in mind that dividends are paid after capex.
In 4Q15, the company's dividends were $0.38 per share. With potash's price at $200 per ton and an estimated volume of 10 million, PotashCorp was barely able to fund its dividend obligations through internal sources.
Sustaining capex raised
In 2Q16, during the company's earnings call, it gave a guidance of ~$800 million for capex for the maintenance of its existing facilities, which it raised from $700 million.
However, potash prices have significantly fallen from where they were a year ago. In the next article, we'll look at the average realized potash prices for PotashCorp and its peers such as Mosaic (MOS), Agrium (AGU), and Israel Chemicals (ICL) in 2Q16.
You can also access some of the above-mentioned companies through the VanEck Vectors Agribusiness ETF (MOO), which invests one-third of its portfolio in agricultural chemicals companies.