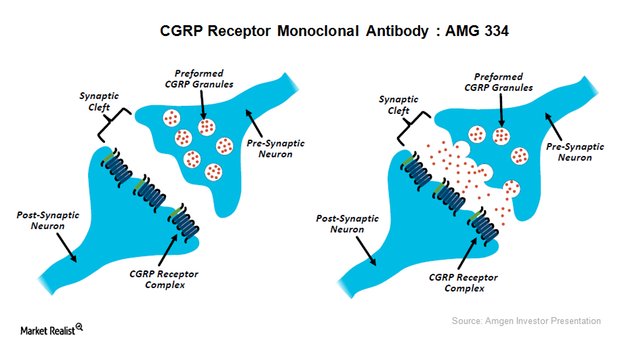 Entering Migraine Market Won't Be Easy for Novartis, Amgen
CGRP inhibitor progress
On June 8, 2016, Novartis (NVS) and Amgen (AMGN) announced that the CGRP inhibitor therapy, AMG 334 (erenumab), reported positive results in a Phase 2 clinical trial as a therapy for preventing chronic migraine.
After the regulatory approvals, the drug will be commercialized in the US, Japan, and Canada by Amgen. Novartis will offer AMG 334 in Europe and the remaining international markets. To learn more about these trials, please refer to Behind Amgen's Plans to Penetrate the Migraine Segment.
Novartis's press release details the symptoms and effects of migraine: "Migraine involves recurrent attacks of moderate to severe head pain that is typically pulsating, often unilateral and associated with nausea, vomiting and sensitivity to light, sound and odors.[11]
Article continues below advertisement
"Migraine is associated with personal and societal burdens of pain, disability, reduced quality of life and financial cost, and it remains under-recognized and under-treated with more than 40% of people going undiagnosed.[5],[12] Chronic migraine is characterized by at least 15 headache days per month, of which eight or more are migraines, for more than three months.[7]"
The above illustration shows the mode of functioning of CGRP inhibitors as therapy for chronic migraine. To learn more about this investigational therapy, please refer to Amgen's Research Pipeline in Neuroscience and Inflammation.
Major challenge
Being a preventive therapy administered subcutaneously once a month, AMG 334 may be a paradigm change in migraine management. This drug is expected to enable Amgen and Novartis to pose tough competition to other migraine players such as Eli Lilly (LLY) and Allergan (AGN).
The success of AMG 334 may also boost share prices of the PowerShares QQQ ETF (QQQ). Amgen makes up about 2.5% of QQQ's total portfolio holdings.
However, while data from the global Phase 2 study, 20120295, has demonstrated the superiority of the investigational drug over a placebo, the results may display a slight positive skew as compared to real-world data.
In such preventive clinical trials, some of the patients respond well to the therapy while there are others who don't. In the real clinical world, this range can be expected to expand, with certain patients finding the investigational drug to be effective while others fail to respond to it. This may affect the overall acceptance of CGRP inhibitors by the physician and patient communities.
In the next article, we'll explore Alder Biopharmaceutical's investigational migraine drug, ALD403.