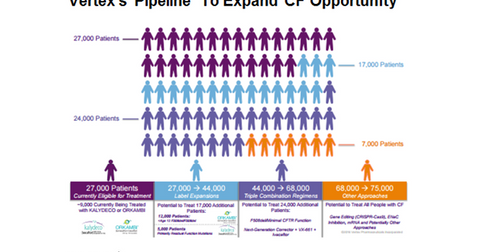 Cystic Fibrosis Treatment Is a Space Where Vertex Could Thrive
By Jillian Dabney

Sep. 27 2016, Updated 9:05 a.m. ET
The label expansion of commercialized drugs
The addressable population for Vertex Pharmaceuticals' (VRTX) two commercialized products Kalydeco and Orkambi is currently 27,000. Of this total population, the eligible population for Kalydeco is ~4,000, while Orkambi caters to ~23,000 CF (cystic fibrosis) patients. Kalydeco is a single drug while Orkambi is a combination therapy that includes Ivacaftor, which is also known as Kalydeco with lumacaftor. During the first half of 2016, Orkambi generated revenues of $468.6 million, whereas Kalydeco recorded $350.7 million revenues.
The label expansion for these two drugs would increase the target population to 44,000. For details on the CF space opportunity for vertex, please read "A Look at Vertex's Cystic Fibrosis Patient Opportunity."
Article continues below advertisement
How will the pipeline expand the CF population base?
VRTX is developing triple combination regimens that have a potential to add another 24,000 patient. Thus, if Vertex succeeds in developing triple combination therapy, it could treat 68,000 CF patients.
Further approaches including ENaC (epithelial sodium channel) inhibition, gene editing, and mRNA (messenger RNA) therapies will expand the target population to 75,000. For further information on VRTX's pipeline, please read "Vertex Has Strong Research and Development Pipeline."
As share price is quite susceptible to many industry and company-specific events, risk-averse investors can check out ETF options such as the SPDR S&P 500 ETF (SPY). SPY has 0.12% of its total holdings in Vertex. SPY holds its assets in big pharmaceuticals such as Pfizer (PFE), Merck & Company (MRK), and Johnson & Johnson (JNJ).
Continue to the next part for an update on the VX-661 study with Ivacaftor.