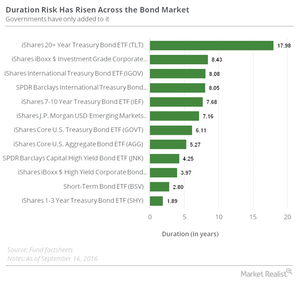 Investors Beware: Duration Risk Has Risen across the Bond Market
Duration risk has been rising
If you're a bond (BSV) (AGG) investor or fund manager, fluctuation in interest rates is one of the key risk drivers for the returns you get from your portfolio. Interest rates always affect bond prices inversely. That is, a rise in interest rates indicates a fall in bond prices and vice versa.
Article continues below advertisement
Article continues below advertisement
How duration could impact returns in a rising rate environment
In its simplest form, duration is the time taken in years by a bond's internal cash flows to recover its cost. Bonds with low duration bear less interest rate risk. Their cost is recovered faster, so the price of the bond is less susceptible to interest rate changes. The higher the duration, the more the bond's price will react to interest rate changes. So, it's a measure of the sensitivity of a bond's price to changes in interest rates.
As interest rates increase, issuers must pay higher yields to issue new bonds, and the value of previously purchased fixed rate bonds falls. This increases bond price sensitivity to interest rate fluctuations.
Governments have only added to this risk
Currently, governments (TLT) (GOVT) are issuing more longer-dated bonds, and over the years, this average time horizon of government-issued debt has only increased. Interestingly, the longer end of the yield curve is always more sensitive to price changes, the duration effect. Therefore, governments around the world have contributed heavily, given the burgeoning size of sovereign debt, towards adding price sensitivity to the world bond market.
In a way, we can say that the relative volatility tolerance of the global debt portfolio has risen over these years on account of:
the issue of longer-dated bonds thereby raising the duration risk
the issue of more and more debt, globally (ACWI), leading to increased price sensitivity
According to Dalio, the world seems to be maxing out on its limit to issue debt.