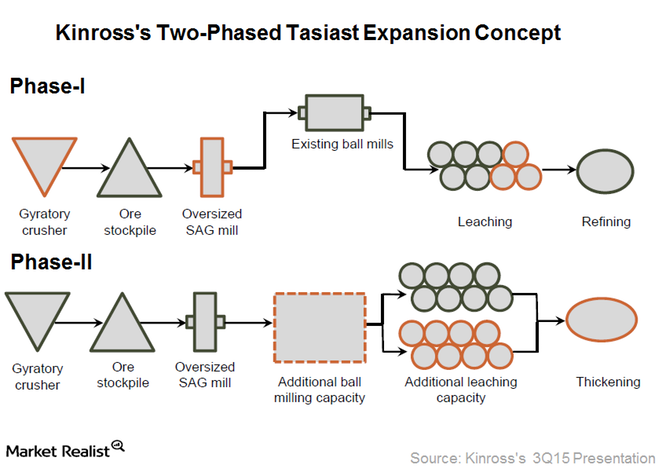 What Tasiast Mine Being Back in Full Swing Means for Kinross Gold
Suspension of Tasiast
Kinross Gold (KGC) announced in June 2016 that it was temporarily halting its mining and processing activities at the Tasiast mine in Mauritania due to government allegations of invalid work permits. This prohibited several expat employees from working at the site. Expats comprise ~12% of the company's workforce there. While the company is taking the necessary actions to ensure it has valid work permits, it believes that other companies in the country are also facing similar issues.
Article continues below advertisement
Article continues below advertisement
Tasiast restart
During its 2Q16 earnings call, the management mentioned that it expects to resume normal operations in August 2016. Accordingly, Kinross resumed normal mining and processing operations at Tasiast in mid-August. The company also stated that two major construction contracts regarding earthworks and concrete works have been awarded for the Phase One expansion project.
Tasiast phase one expansion
Kinross's phase one expansion at Tasiast is expected to increase the mill throughput capacity from 8,000 to 12,000 tons per day. It will also significantly reduce the operating costs and increase production for Tasiast. While Kinross could face a declining production profile over the medium term, Tasiast phase one expansion is an opportunity to replace its declining production.
During its latest quarterly results, peer Newmont Mining (NEM) reported that its Tanami expansion could provide it with a near-term production growth option. Meanwhile, Yamana Gold (AUY) is undergoing exploration at various mines, which has resulted in high-grade asset extensions in the past.
To get exposure to gold prices, investors can always invest in gold-backed ETFs like the SPDR Gold Shares ETF (GLD) and the iShares Gold Trust ETF (IAU).