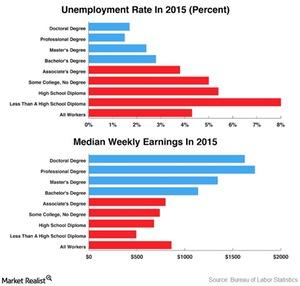 Why Student Debt May Not Affect the US Economy Like Sub-Prime
Not as severe as the sub-prime crisis?
According to a July 2016 report from the White House Council of Economic Advisers, "Student debt is less likely to make a recession more severe or slow an expansion in the way that mortgage debt may have."
A key factor that supports this belief is that student debt as a share of disposable income is quite low compared to the share of mortgage loans to income during the sub-prime crisis. Student loans stood at 9% of aggregate income in 2015, up from 3% in 2003.
There was an 84% share of disposable income that mortgage debt (MBB) (REM) reached over a span of five years until 2007, from 59% in 2002. Mortgage debt commanded a 61% share of aggregate income in 2015.
Article continues below advertisement
Article continues below advertisement
Student debt is an investment in human capital
The report also said that "student loan debt is an investment in human capital that typically pays off through higher lifetime earnings and increase productivity." This is to say that higher education is accretive and more often than not results in greater overall productive capacity and income. The value of and the future income from the use of that education isn't dependent on market demand and supply forces. On the other hand, income from or value of mortgaged property is impacted by market demand and supply.
So according to the report, it's quite unlikely that the student debt situation will take the form of the sub-prime crisis or affect the financial markets (XLF) and the economy in the way the financial crisis of 2007–2009 did. However, this doesn't mitigate the risk that current student debt levels pose to the financial health of the US economy (IWD) (IWF).
Recognizing the rising cost of higher education and the accompanying student loan crisis, certain trends are changing in the United States.