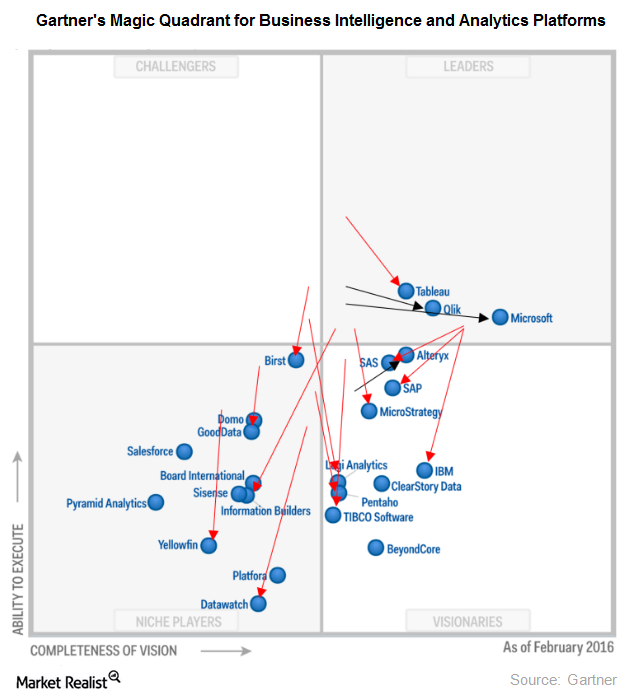 Why Did Salesforce Acquire BeyondCore?
BeyondCore acquisition to boost analytic cloud capabilities
Earlier in this series, we discussed the expectations from Salesforce's (CRM) soon-to-be-announced fiscal 2Q17 results. In the middle of this month, Salesforce announced the acquisition of BeyondCore. Prior to that, Salesforce announced the acquisition of Quip, which is expected to boost the company's position in the rapidly growing productivity and collaboration space. BeyondCore is Salesforce's seventh acquisition in 2016. Financial details of the acquisition were not disclosed.
Article continues below advertisement
Article continues below advertisement
BeyondCore is a business intelligence data company with expertise in the AI (artificial intelligence), deep learning, and business analytics area. Its analytics capabilities range from descriptive to predictive. BeyondCore employs smart pattern discovery technology that enables it to analyze data from databases and the Apache Hadoop file system. Hadoop is a high-speed open source with a high degree of fault tolerance. It is cost-efficient because it stores data in small chunks across several servers and can process queries rapidly by sending several to multiple machines at the same time. In July 2016, Teradata (TDC) announced the acquisition of Big Data Partnership, to get access to its expertise in disruptive technologies such as Apache Hadoop.

BeyondCore will be a part of Salesforce's analytics cloud
BeyondCore's products are already integrated into Salesforce offerings, as shown at the Gartner Business Intelligence & Analytics Summit in early 2016. Salesforce CEO Marc Benioff shared that BeyondCare's expertise in AI would be put to use by integrating it into Salesforce's Analytics Cloud. Analytics Cloud, launched by Salesforce in 2014, provides tools to help businesses analyze data from their interactions with clients.