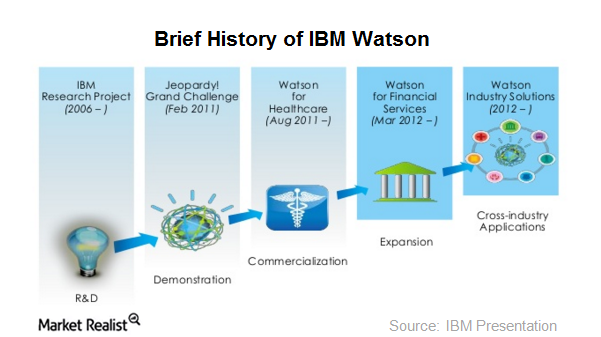 Which IBM Partnerships and Acquisitions Have Boosted Watson?
Strategic acquisitions that boosted IBM Watson's capabilities
Previously in the series, we discussed IBM (IBM) Watson's various partnerships at the currently ongoing CES 2015. Although predictions regarding IoT (Internet of Things) vary, they all suggest a growing number of connected devices in the future. IBM wants to leverage this increasingly complex data to push its Watson in the rapidly growing area of big data and the IoT space.
IBM's billion dollar acquisition of Merge Healthcare in August 2015 was intended to boost its Watson Health Unit. In early 2015, IBM announced the acquisition of AlchemyAPI to boost its cognitive computing applications and specifically to boost Watson's ecosystem. A little later, the company announced the acquisition of Phytel and Explorys. Phytel builds and develops cloud-based tools to augment care coordination and outcomes while Explorys is a cloud-based data analytics company.

Article continues below advertisement
IBM expects Watson to be a $10 billion dollar business
Apart from acquisitions to further push the chances of Watson Health's success in the healthcare space, IBM has partnered with Apple (AAPL), Johnson & Johnson (JNJ), and Medtronic (MDT) to leverage the information gathered from personal health devices.
IBM's CEO shared that the company has spent close to $30 billion on acquisitions, spanning data analytics, cloud, and mobile to transform the company's capabilities in the new generation of software and services. IBM's CEO has in the past shared that she expects Watson to be a $10 billion dollar business.
Investors who want exposure to IBM can consider investing in the iShares U.S. Technology ETF (IYW) and the iShares Russell 1000 ETF (IWB). IYW and IWB, which have 46.7% and 8.5% exposure to application software, invest ~12.5% and 0.61% of their holdings in IBM, respectively.