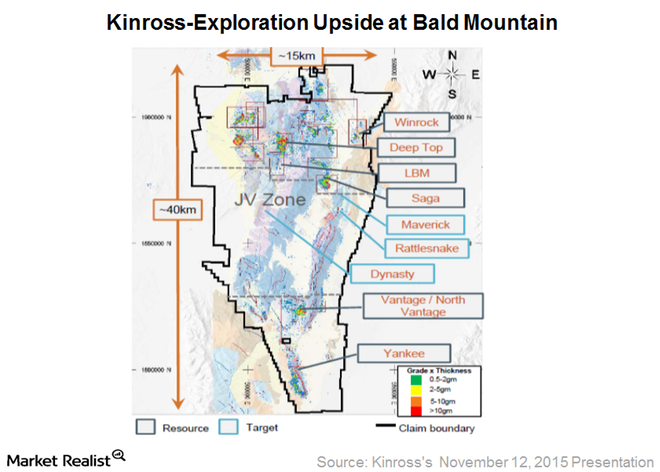 How Bald Mountain Is a Positive for Kinross Gold
Acquisition of Nevada assets
Kinross Gold (KGC) acquired 100% of the Bald Mountain gold mine and the remaining 50% of the Round Mountain gold mine in Nevada from Barrick Gold (ABX) in November 2015. During its management call after the acquisition, Kinross noted that there were multiple sources of upside at Bald Mountain, which covers 373 square miles, making it one of the largest mine sites in the US.
Article continues below advertisement
Article continues below advertisement
Conversion to reserves
The company expects to convert a substantial part of Bald Mountain's 4 million ounces of resources to reserves as it continues with infill drilling. The current mine plan assumed a conversion of 30% of resources, which was dependent on the receipt of permits. On August 26, the company announced that the US Bureau of Land Management has allowed it to increase exploration activities and the mine's potential expansion.
Further upside
The permits will allow Kinross to expand existing mine facilities, which will provide it with significant flexibility for future growth. It will now be able to complete additional drilling that will drive reserve expansion. The company mentioned that the future options for growth could come from additional heap leach facility and a carbon absorption plant, which will be beyond what is required in the current mine plan. The company is focused on developing two sets of deposits: the Vantage Complex and Yankee pits in the South area and the Saga and Duke pits in the North area. Kinross also mentioned that by developing these deposits, the current estimate of 1.1 million ounces of gold reserves could substantially increase.
Kinross's peers (RING) such as Barrick Gold (ABX), Goldcorp (GG), Agnico-Eagle Mines (AEM), and Newmont Mining (NEM) have better project pipelines than Kinross.