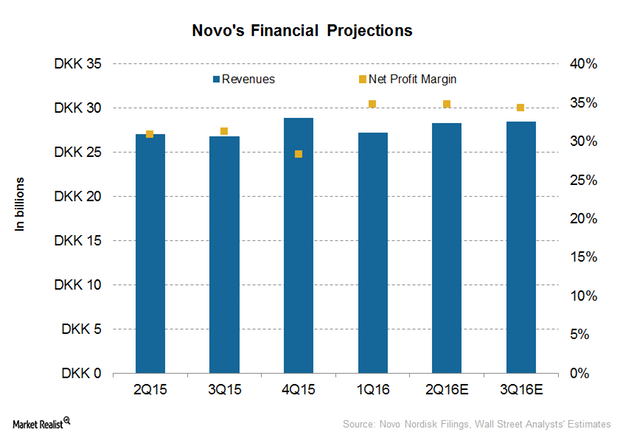 How Much Growth Will Novo See in 2Q16?
Novo's revenue growth
Following a company press release, Novo Nordisk (NVO) will announce earnings for the second quarter of 2016 on August 5, 2016. As per Wall Street analyst estimates, Novo should earn 28.3 billion Danish kroner and 28.5 billion Danish kroner during the 2Q16 and 3Q16. This translates to a yearly sales growth of 4.7% and 6.4%, during 2Q16 and 3Q16, respectively. For details on Novo's two segments, please read, How Did Novo's Segments Perform in 1Q16?
Novo's diabetes and obesity care portfolio include new generation insulin, modern insulin, human insulin, Victoza, other anti-diabetics, and obesity care drugs.
Article continues below advertisement
Article continues below advertisement
Its major contributor, NovoRapid, is expected to record 5.3 billion Danish kroner in 2Q16 and 5.3 billion Danish kroner in 3Q16. The details on the drug are available at Analyzing Novo Nordisk's Next Generation Insulin Portfolio. Victoza is growing quickly and is expected to drive the revenue by generating 5.1 billion Danish kroner and 5.3 billion Danish kroner in 2Q16 and 3Q16, respectively.
Anticipated net margin expansion in 2Q16
Wall Street analysts project Novo to report a gross margin of 85.3% and 85.2% in 2Q16 and 3Q16, respectively. On a yearly basis, this will present a contraction by 40 basis points. Perhaps product mix is accountable for such a squeeze in the margin. NVO's net margin is expected to be 34.8% in 2Q16, which would be an expansion by 3.9% when compared with a margin of 30.8% in 2Q15. The share repurchase might be one of the reasons for net margin expansion. Novo is a leader in the diabetes space. The company competes with Sanofi (SNY), Eli Lilly (LLY), and Merck & Co (MRK) in the space.
It's often risky to directly invest in a biotech company, as any news release for the success or failure of its drug results in volatility in the stock price. Thus, to remain on the comparatively safer side, you can choose to invest in the PowerShares International Dividend Achievers Portfolio (PID). PID holds 4.5% of its assets in pharmaceutical companies and Novo's share in the fund's total holdings is 0.62%.