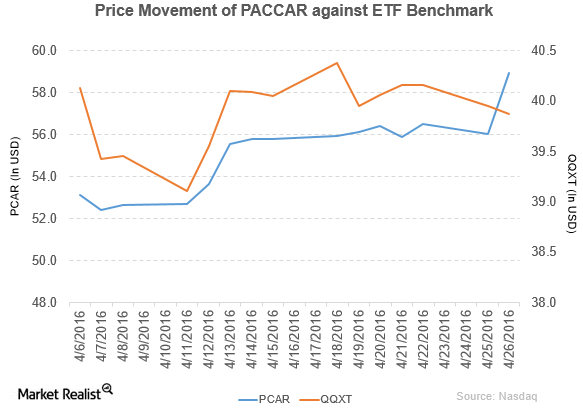 How Did PACCAR Perform in 1Q16?
Price movement of PACCAR
PACCAR (PCAR) has a market cap of $20.5 billion. PCAR rose by 5.1% to close at $58.93 per share on April 26, 2016. The stock's weekly, monthly, and year-to-date (or YTD) price movements were 5.0%, 9.6%, and 24.9%, respectively, as of the same day.
This means that PCAR is trading 7.8% above its 20-day moving average, 10.1% above its 50-day moving average, and 12.0% above its 200-day moving average.
Article continues below advertisement
Related ETF and peers
The First Trust NASDAQ 100 Ex-Technology Sector Index ETF (QQXT) invests 1.7% of its holdings in PACCAR. This ETF tracks an equal-weighted index of NASDAQ 100 stocks that excludes technology companies. The YTD price movement of QQXT was -3.6% as of April 25, 2016.
The market caps of PACCAR's competitors are as follows:
Performance of PACCAR in fiscal 1Q16
PACCAR (PCAR) reported fiscal 1Q16 Truck, Parts and Other's net sales and revenues of $4,010.6 million, a fall of 11.8% compared to net sales and revenues of $4,548.0 million in fiscal 1Q15. It reported a European commission charge of $942.6 million in fiscal 1Q16.
Its revenue of Financial Services rose to $289.4 million in fiscal 1Q16, a rise of 1.7% compared to fiscal 1Q15. Its net income and EPS fell to -$594.6 million and -$1.69, respectively, in fiscal 1Q16, compared to $378.4 million and $1.06, respectively, in fiscal 1Q15.
PACCAR's cash and marketable debt securities fell by 4.3%, and its inventories rose by 4.1% in fiscal 1Q16 compared to fiscal 4Q15. Its debt-to-equity ratio rose to 2.4x in fiscal 1Q16 compared to 2.0x in fiscal 4Q15.
During the first quarter of 2016, the company repurchased 1.1 million of its common shares for $56.3 million.
PACCAR has declared a quarterly cash dividend of $0.24 per share on its common stock. The dividend will be paid on June 6, 2016, to shareholders of record at the close of business on May 19, 2016.
For ongoing analysis of this sector, please visit Market Realist's Consumer Discretionary page.