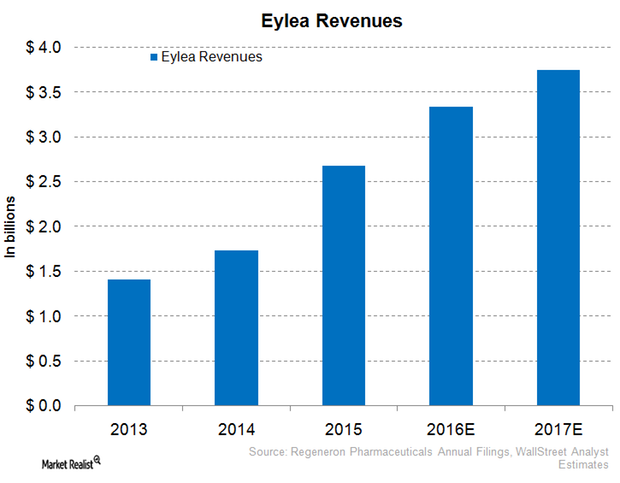 Why Eylea Could Face Tough Competition in 2016
Competition from Bevacizumab and Ranibizumab
In 2016, Regeneron Pharmaceuticals (REGN) expects to face increased competition from Roche Holding's (RHHBY) Lucentis (Ranibizumab) and Avastin (Bevacizumab) for Eylea—its blockbuster therapy. Currently, the Centers for Medicare and Medicaid Services is planning to propose changes in physician reimbursement related to buying and billing of drugs under the Medicare Part B program. These changes intend to reduce healthcare costs. They could have a negative impact on physicians and hospitals' net revenues. To counter this effect, physicians might opt to prescribe Bevacizumab or Ranibizumab instead of Eylea to benefit from financial incentives provided by manufacturers and group purchasing organizations. This might reduce access to Eylea.
Despite these trends, Regeneron has projected YoY (year-over-year) growth of ~20%–25% in Eylea's net sales in the US market.
Article continues below advertisement
Revenue estimates
Wall Street analysts have projected that Eylea's sales will rise by 24.6% YoY from $2.7 billion in 2015 to $3.3 billion in 2016. The drug is expected to earn revenues worth ~$3.7 billion in 2017—a YoY rise of ~12.2%.
If Eylea manages to surpass these revenue targets, it could boost Regeneron's share prices as well as those of the SPDR S&P Biotech ETF (XBI). Regeneron accounts for ~2.5% of XBI's total portfolio holdings.
New research programs
Regeneron has completed enrollment for its phase 2 study. It will test the efficacy of co-formulated combination therapy of Eylea with a platelet-derived growth factor receptor antibody, Rinucumab, as therapy for wet AMD (age-related macular degeneration). This trial has been granted fast track designation and expects to release data in 4Q16. Regeneron thinks that if the therapy shows potential and is approved by the regulatory bodies, it will be administered as a single injection. Being an intravitreal injection, one that's administered in the eye, a single injection instead of two injections for different antibodies will be preferred by a significant portion of the patient population. To learn more about AMD, read An Overview of Regeneron's Business Model.
Regeneron also plans to study a co-formulated combination of Eylea and Nesvacumab for AMD and diabetic macular edema in two separate phase 2 clinical trials. The company is also exploring Eylea's potential as a therapy for diabetic retinopathy in a phase 3 study.
These research programs could result in Eylea's label expansion. This would enable Regeneron to pose strong competition to other anti-VEGF players such as Pfizer (PFE) and Novartis (NVS). To learn more about Eylea, read Eylea: Regeneron's Blockbuster Therapy Focuses on Eye Segment.