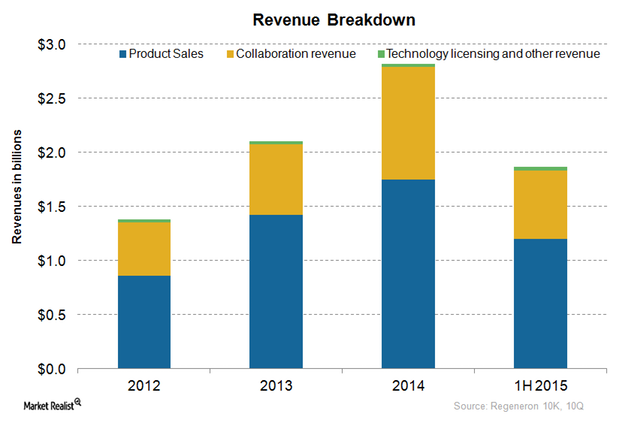 An Overview of Regeneron's Business Model
Regeneron's business model
Regeneron (REGN) generates revenues in three ways: product sales, revenues earned through collaboration arrangements, and revenues earned from licensing proprietary technology.
Article continues below advertisement
Article continues below advertisement
Product sales
Regeneron's product portfolio comprises three drugs: Eylea, Arcalyst, and Praluent. Praluent was launched in July 2015.
Approved by the FDA in November 2011, Eylea is known in scientific literature as VEGF trap-eye. Originally approved for neovascular age-related macular degeneration (or wet AMD), the FDA subsequently approved the drug's use to treat other eye ailments.
According to AMD.org, "Age-related macular degeneration (or AMD) is a progressive eye condition affecting as many as 15 million Americans, with 200,000 new cases each year. AMD causes severe vision loss because it attacks the macula of the eye, where our sharpest central vision occurs."
AMD is further classified in two categories: dry AMD and wet AMD. With expanded indications, Eylea earned $1.2 billion in revenues in 1Q15. Due to its superior efficacy, the drug is a tough competitor to drugs such as Roche's (RHHBY) Lucentis and Avastin, Novartis's (NVS) Visudyne, and Pfizer's (PFE) Macugen.
Arcalyst was approved by the FDA in 2008 for treating a rare genetic condition, cryopyrin-associated autoinflammatory syndromes (or CAPS). The drug earned $9.9 million in revenues in 1H15.
Article continues below advertisement
Praluent, Regeneron's new PCKS9 inhibitor drug, is considered to be a breakthrough drug and is expected to become a blockbuster therapy. According to Leerinks Partners Analysts, the drug should earn more than $5 billion in peak sales. Peak sales is an estimation of the maximum revenues that a drug can earn in its life cycle.
Collaboration revenue
Regeneron earns most of its collaboration revenue from Sanofi-Aventis and Bayer HealthCare. Depending on the terms of the agreement, these revenues are paid for the services, technology, rights, and goods provided by Regeneron throughout the development and commercialization phases of the specified product.
The revenues can be further classified as upfront licensing payments, milestone payments upon completing certain research targets, payment for services provided, and a share of the profit or loss realized on the commercialization of the product.
Technology licensing
Regeneron also receives technology licensing revenues from Sanofi and Astellas. The company also receives royalty payments from global sales of Novartis' Ilaris.
Investors can get diversified exposure to Regeneron's strong drug portfolio, yet avoid company-specific risks, by investing in the iShares NASDAQ Biotechnology ETF (IBB). IBB has 7.34% of its total holdings in Regeneron.