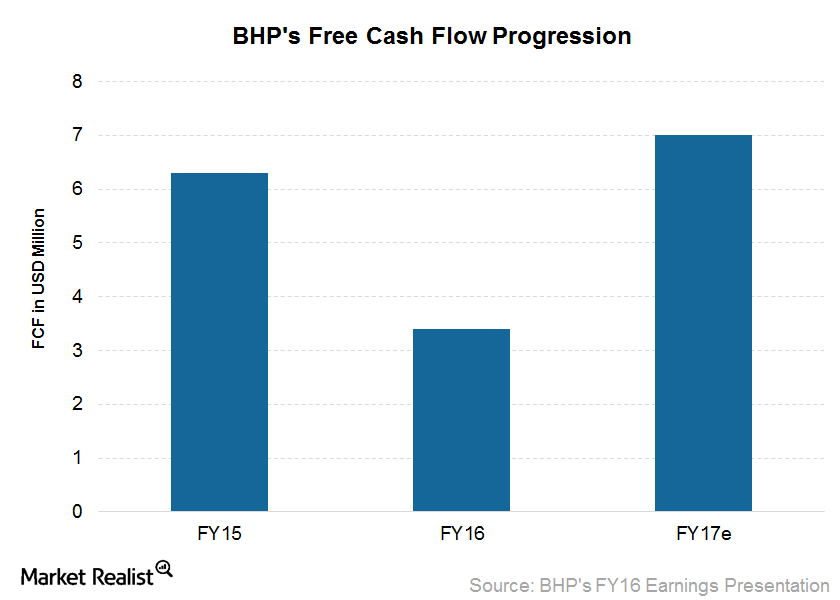 What Could Drive BHP Billiton's Free Cash Flows for Fiscal 2017?
Free cash flow
BHP Billiton's (BHP) (BBL) unit costs declined by 16% in fiscal 2016, supported by increased capital efficiency. This cost reduction helped BHP generate strong free cash flow (or FCF).
In fiscal 2016, the company generated FCF of $3.4 billion. It generated FCF at each of its four divisions: iron ore, copper, coal, and petroleum. Its US Onshore and Nickel West were also FCF-positive in the last quarter of fiscal 2016.
Next year, the company expects $1.8 billion in productivity gains. On the back of this and assuming current spot prices for commodities (COMT) and foreign exchange rates, BHP expects to generate $7 billion in FCF in fiscal 2017.
Article continues below advertisement
Dividends
BHP declared a final dividend of $0.14 per share. This brings BHP's total dividend for fiscal 2016 to $0.30 per share. According to the company's dividend policy, a minimum payout of $0.08 per share was determined, which was topped by an additional $0.06 per share.
The company's dividend policy is paying out 50% of net underlying earnings. These dividends are covered by its free cash flow in the current period. This reflects its strong FCF generation as well as strong balance sheet.
As for capital allocation, the company maintained that it has allocated $2.3 billion to invest in growth projects. All these projects have higher returns than buying back their debt.
BHP and Rio Tinto (RIO) have reduced their dividends, but peers Freeport-McMoRan (FCX), Anglo American (AAUKY), and Glencore (GLNCY) have suspended their dividends to withstand the Market slump.