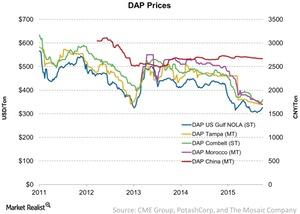 DAP Prices See a Mixed Week for the Week Ending August 19
Phosphate fertilizers
Ammonium phosphates such as DAP (diammonium phosphate) and MAP (monoammonium phosphate) are the most widely used phosphate fertilizers globally.
Since ammonia is a feedstock for producing DAP and MAP, ammonia and natural gas prices and phosphate rock prices impact phosphate fertilizer producers such as Mosaic Company (MOS), Israel Chemicals (ICL), Agrium (AGU), and PotashCorp (POT). You can access some of these companies through the VanEck Vectors Agribusiness ETF (MOO). MOO invests about one-third of its portfolio in agricultural chemicals.
Article continues below advertisement
North America DAP prices
In the week ending August 19, 2016, the movement in average prices for phosphate fertilizers remained mixed week-over-week. DAP in the Corn Belt rose 2.9% to $326.6 per metric ton—compared to the previous week. Current prices continue to be at their lowest levels since November 2011. Prices have fallen by 28% YoY (year-over-year) in the US Corn Belt.
Prices at Port Tampa Bay remained flat to $339 per metric ton last week—compared to a week earlier. In contrast, DAP prices in US Gulf New Orleans continued to rise to $296 per metric ton or a 1.9% increase from a week ago. It's important to remember that YoY prices in Port Tampa Bay and the US Gulf fell by 27% and 26%, respectively.
International markets
Average DAP prices in China were flat at 2,669 Chinese yuan per metric ton last week, while DAP prices in Morocco remained unchanged at $340 per metric ton from $340 per metric ton.
In the next part of this series, we'll turn our attention to the second most important phosphate fertilizer—MAP.