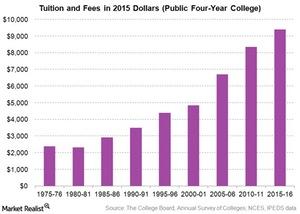 Why Is College Education So Expensive in the United States?
Rise in college tuition and fees
The rise in delinquencies on student loans in the United States (SPY) (IWM) (QQQ) can be partially attributed to the accelerated rise in college tuition and fees, which haven't been supported enough by an increase in jobs or salaries.
According to a recent survey, tuition and fees at a four-year public university averaged $9,410 in the past academic year. It stood at $6,708 a decade ago, as you can see in the above graph.
Article continues below advertisement
Article continues below advertisement
Public support declined in the wake of the financial crisis
The price of public college has gone up, principally because public support from the states has gone down. The great recession took its toll on state revenues. According to the CEA (Council of Economic Advisers), "Between 2008 and 2013, state revenues per full-time equivalent student at public colleges declined from $7,400 to $6,000."
This decline in state support for public colleges led to the rise in for-profit schools, as we saw in Part 1 of this series. These for-profit institutions used aggressive marketing techniques and partnered with financial institutions (XLF) (VFH) (KBE) (KRE) to get more students to enroll. In effect, they targeted a sizable jobless class of borrowers.
The Bennett hypothesis
When the US government tried to assist education financially in the form of Federal Pell Grants,[1. A Federal Pell Grant is a subsidy the US federal government provides for students who need to pay for college.] the Bennett hypothesis came into play. According to the Bennett hypothesis, for-profit schools begin to rely on the federal government to provide the necessary aid, while they keep raising college tuition and fees.
The rising cost of college education in the United States has led to a rise in delinquencies and defaults on student loans.