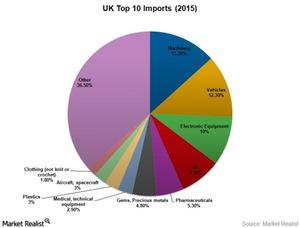 Will Brexit Weaken the UK's Competitive Advantage over the US?
Imports could become costly as a result of Brexit
In 2015, the United Kingdom imported $625.7 billion worth of goods. On Brexit, import restrictions and tariff quotas currently applicable to importers in the United Kingdom and foreign businesses that export to the United Kingdom, are set to change.
For UK businesses, the cost of processing imports could increase. European Union (or EU) businesses that export to the United Kingdom may see the cost of customs duties and import tax returns increase significantly. For non-EU businesses, administrative costs could increase.
Article continues below advertisement
Bilateral trade
A trade surplus typically represents a country's competitive advantage over another country, while a trade deficit indicates a competitive disadvantage. From 2011 to 2015, the United Kingdom's trade surpluses with the United States (SPY) (IWM) (QQQ), Singapore, and Brunei grew the fastest. Its surplus was up 847.6% for the United States, 251.6% for Singapore, and 218.7% for Brunei.
Since the United Kingdom is a net exporter to the United States, Brexit shouldn't lead to higher costs from a product perspective. In fact, with the EU out of the picture, trade between the United States and the United Kingdom (EWU) may just become more efficient, as UK-based importers and US-based exporters will no longer have to go through the EU-prescribed route.
During the same period, the United Kingdom's trade deficits with France (EWQ), Spain (EWP), and Belgium grew the fastest. The deficit rose by 406.6% with France, 137.4% with Spain, and 118% with Belgium.
Given the United Kingdom's competitive disadvantage compared to many EU countries, Brexit could impact its imports from EU member countries more negatively than its imports from non-EU countries. With the removal of the free movement of goods and the United Kingdom's being a net importer from the above-mentioned EU countries, imports to the United Kingdom will start to flow in with extra costs attached.
Let's now take a look at how taxation is set to impact for businesses operating in the United Kingdom.