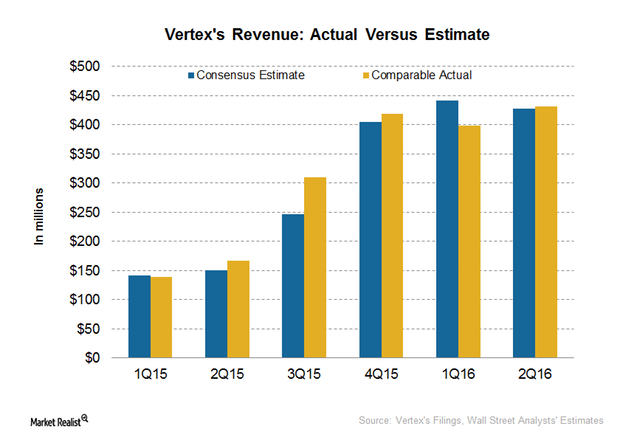 How Vertex's Revenue and Earnings Surprised in 2Q16
Revenue surprise in 2Q16
Vertex Pharmaceuticals (VRTX) reported its 2Q16 earnings on July 27, 2016. VRTX surpassed Wall Street analysts' projections and reported revenue of $431.6 million. The 0.9% revenue surprise wasn't able to excite the Market, and its shares were off by 3% after hours on July 27.
In 2Q16, Vertex Pharmaceuticals's revenue grew by a robust 160%, driven by Orkambi and Kalydeco. Orkambi earned $245 million while Kalydeco's revenues stood at $180 million during the second quarter of 2016.
To understand the risk related to the two costly drugs, please read Is Vertex Pharmaceuticals Exposed to Drug Pricing Risks?
Article continues below advertisement
17.6% earnings surprise in 2Q16
During 2Q16, Wall Street analysts projected that Vertex Pharmaceuticals would report earnings per share (or EPS) of $0.20. The company reported non-GAAP[1. generally accepted accounting principles] EPS of $0.24 per share. An a non-GAAP basis, Vertex achieved the break-even point in 4Q15, but it hasn't achieved the same on a GAAP basis.
During 2Q16, the GAAP net loss for Vertex stood at $64.5 million. Higher R&D[2. research and development] with pipeline advancement, as well as increased SG&A,[3. selling, general administrative] that supported Orkambi's global launch drove the company's operating expenses.
The above table demonstrates the comparison of Vertex's non-GAAP actual earnings and estimated earnings.
Any direct investment in stocks can be risky. To mitigate this risk, you can choose to invest in funds such as the PowerShares QQQ (QQQ) ETF. This ETF offers ~6.9% weight in the biotechnology sector. QQQ holds ~2.1% and ~2.4% in Gilead Sciences (GILD) and Amgen (AMGN), respectively. Celgene (CELG) holds ~1.6% of the fund's total assets whereas Vertex Pharmaceuticals accounts for 0.46% of its total holdings.
In the next part of the series, we'll discuss Vertex Pharmaceuticals's performance in 2Q16.