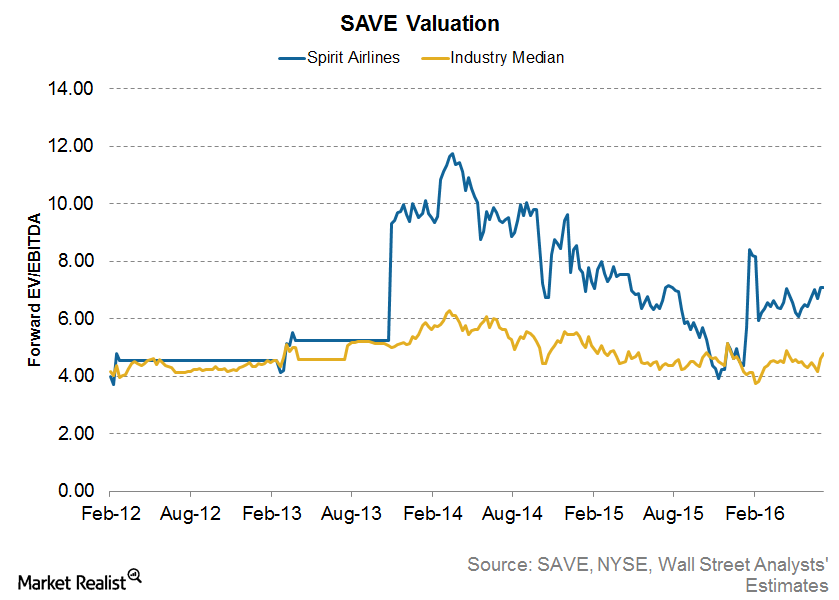 Spirit Airlines's Valuation: What Is Priced In ahead of 2Q16 Earnings?
By Ally Schmidt

Nov. 20 2020, Updated 12:49 p.m. ET
Current valuation
On July 8, 2016, Spirit Airlines (SAVE) was valued at 6.9x its forward EV-to-EBITDA ratio. Spirit Airlines's valuation is higher than its average valuation since February 2012 of 6.6x. It is also higher than the industry median valuation of ~4.9x. The iShares Morningstar Small-Cap ETF (JKJ) holds 0.65% in SAVE.
Article continues below advertisement
Peer comparison
On July 8, 2016, United Continental (UAL) was trading at 3.1x, Delta Air Lines (DAL) at 3.6, Southwest Airlines (LUV) at 4.9x, American Airlines (AAL) was trading at 4.7x, JetBlue (JBLU) at 3.6x, Spirit Airlines (SAVE) at 6.9x, and Allegiant Travel (ALGT) was trading at 6.0x.
The market is expecting SAVE's EBITDA to decline slightly by 0.2% in 2016. In the same period, UAL's EBITDA is expected to fall by 7% and AAL's EBITDA is expected to fall by 0.5%.
DAL's EBITDA is expected to grow by 18%, LUV's by 9%, JBLU's EBITDA is expected to grow by 10%, ALK's by 7.4%, and ALGT's EBITDA is expected to grow by 4%.
Our analysis
As can be seen from the chart above, Spirit Airlines's valuation has been above the industry median since the start of 2014. However, it has also been in a steady decline since then. Spirit Airlines has enjoyed a historical premium of over 30% compared to its peers. This has now narrowed to only 9%.
Some of the reasons for Spirit Airlines's premium to its peers were its industry-leading growth, high traffic growth, high margins, and low leverage.
However, SAVE's growth seems to have come at a cost. It has seen one of the fastest decline in yields during 2015. Aggressive capacity expansion has also led to declining utilization since 2014 when most airlines' utilization was improving.
SAVE's short-term ability to improve utilization and yields, as promised by its new management, will impact valuation multiples.
In the long term, factors like overcapacity in the industry, substantial rises in fuel prices and the airlines' ability to pass it on, and travel demand will play an important role in Spirit Airlines's valuation.
Investors should watch out for those signs by following our industry insights.