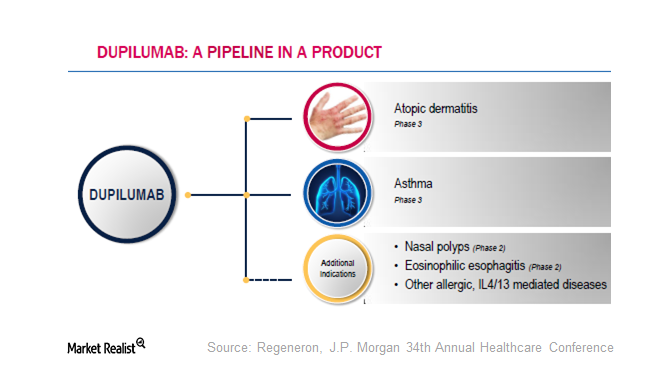 Regeneron's Dupilumab: How Much Potential Does It Hold?
Dupilumab
Below are the various indications for which Regeneron (REGN) is investigating dupilumab in association with Sanofi (SNY):
Phase 3 study for atopic dermatitis
Phase 3 study for asthma
Phase 3 study for nasal polyps
Phase 2 study for atopic dermatitis in pediatric patients
Phase 2 study for eosinophilic esophagitis (or EoE)
Article continues below advertisement
Article continues below advertisement
Dupilumab indications: Atopic dermatitis and asthma
Dupilumab has a breakthrough therapy designation from the FDA (U.S. Food and Drug Administration) for the indication of moderate-to-severe atopic dermatitis in adults.
The major possible threat to dupilumab could be Anacor's Crisaborole, a topical ointment for mild-to-moderate atopic dermatitis, which is under FDA review. Anacor was acquired by Pfizer (PFE) in June 2016. The biotechnology industry is undergoing consolidation, as we can see from the recent increased M&A (merger and acquisition) activity. In 2016, Shire (SHPG) acquired Baxalta. Sanofi is pursuing a hostile takeover of Medivation (MDVN).
Fasinumab
Fasinumab is an antibody that targets the nerve growth factor (or NGF). During the first quarter of 2016, REGN initiated a Phase 3 study for pain following osteoarthritis of the knee or hip. The study is in an enrollment phase. Similarly, during 1Q16, REGN began a Phase 2b/3 study for chronic pain associated with the lower back.
REGN2222
REGN2222 holds fast track designation for the indication of serious lower respiratory tract disease caused by the respiratory syncytial virus (or RSV). The virus causes a significant healthcare burden since it's the leading cause of infant hospitalizations in the United States.
If you are a risk-averse investor who wants to avoid direct risk exposure to Regeneron, you can opt for diversified investment avenues such as ETFs. The Vanguard Growth ETF (VUG) holds 0.30% of its total holdings in Regeneron. By investing in VUG, you can enjoy exposure to REGN.