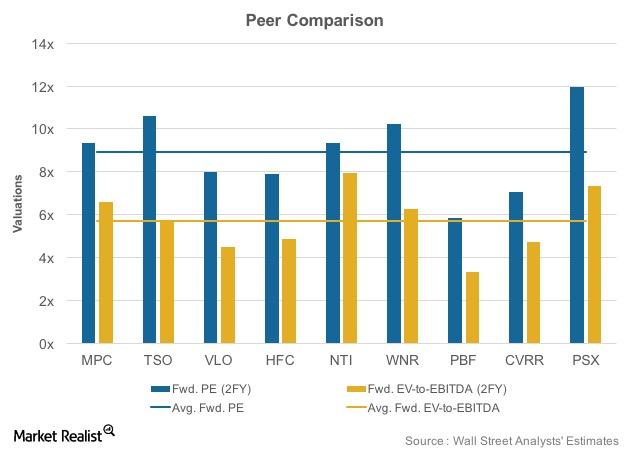 What Do Refining Stock Valuations Reveal?
Drill down to company-level analysis
In this series, we have analyzed the regime shifts in gasoline and distillate cracks and the gasoline-to-distillate production ratio. We also examined the interplay between gasoline and distillate inventories and cracks.
In this part, we will drill down to the company level to analyze the market valuations of American independent refining companies.
Article continues below advertisement
Refining stock valuations
With respect to the price-to-earnings (or PE) ratio, larger players Marathon Petroleum (MPC), Tesoro (TSO), and Phillips 66 (PSX) trade higher than the average valuations. Phillips 66 (PSX) is currently trading at a two-year forward PE ratio of 12x, above its peer average of 8.9x.
Western Refining (WNR) and Northern Tier Energy (NTI) are also trading above the average forward PE. However, Valero Energy (VLO) and other refiners trade below the peer average.
Moving on to EV-to-EBITDA,[1. enterprise value to earnings before interest, tax, depreciation, and amortization] MPC, NTI, WNR, and PSX are currently trading above the two-year forward EV-to-EBITDA peer average of 5.7x.
Other refining sector stocks trade below the peer average. The PowerShares Dynamic Large Cap Value ETF (PWV) has ~5% exposure to energy sector stocks. This ETF also holds VLO in its portfolio.
What does the valuation analysis of refining stocks reveal?
The valuations reveal that in larger refiners, in terms of PE as well as EV-to-EBITDA, MPC and PSX both are trading above their peer averages. On the other hand, VLO trades below both industry averages. This places Valero in a likely attractive valuation spot.
Upon further examination, Valero (VLO) appears to have a comfortable leverage position and a sound cash flow situation. It has also delivered shareholder returns in the form of dividends and buybacks. For more on this, please refer to Is Valero's Debt Position Comfortable?
Valero is one of only two American independent refiners that have no "sell" ratings assigned by Wall Street analysts. Please move on to the next part to learn more about the refining companies' analyst ratings.