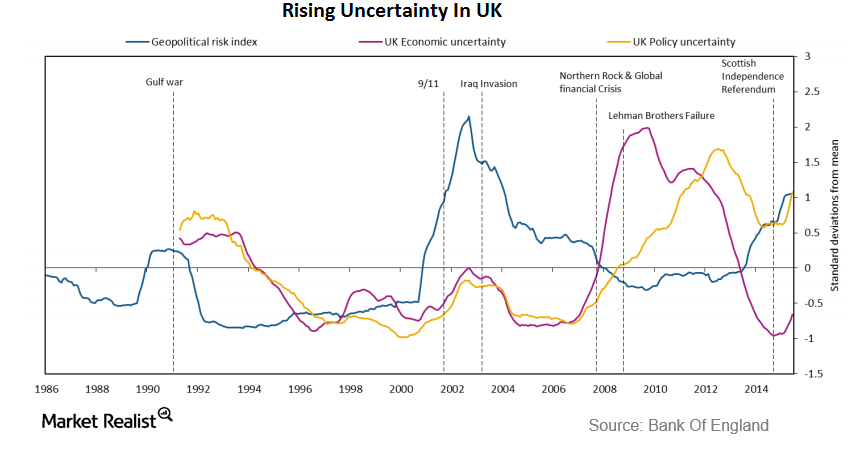 Pound Falls, BOE Summer Stimulus Hopes Rise after Carney's Speech
Carney's speech
On June 30, BOE (Bank of England) governor, Mark Carney, gave a speech signaling the BOE's possible actions after the Brexit referendum on June 23. This was Carney's second major speech after the referendum results. The BOE had always maintained a view that Brexit would be hard for the economy. However, it accepted the peoples' decision and indicated that it wouldn't hesitate to act to maintain economic and financial stability. Currently, the United Kingdom's (FKU) interest rates are at a record low of 0.5% and an asset purchase program of 375 billion pounds. Carney said that the BOE will discuss increasing the stimulus. It will look at instruments to spur the economy. Carney reassured the public that the United Kingdom (EWU) can handle the change due to its strong fundamentals.
Article continues below advertisement
Pound tests the support level of 1.32
The pound-US dollar currency pair fell to a low of 1.32 on June 30 after Carney signaled the possibility of increasing the stimulus this summer.
The above chart, published by the BOE on June 30, indicates a rise in uncertainty in terms of geopolitical risk, the United Kingdom's economic uncertainty, and policy uncertainty since the beginning of 2016. During times of crisis, economic uncertainty usually dominates policy uncertainty. The Brexit vote, which was looked upon by many as a crisis, has seen more policy uncertainty than economic uncertainty. The currency markets also had similar uncertainties. The pound retraced some of the lows to end the day at 1.33—still 0.71% below opening levels.
How did other currencies fare?
European currencies were trading on a mixed bias on June 30. The Swiss franc posted gains of 0.34%, while the euro was trading nearly flat with a slight negative bias. It fell by 0.20%. Among the Latin American currencies, the Brazilian real continued to appreciate as the US dollar-Brazilian real currency pair fell by 0.34%.
Looking at the performance of related ETFs, the iShares MSCI Brazil Capped ETF (EWZ) rose by 1.6%, while the ProShares UltraShort Euro ETF (EUO) rose by 0.25%. The iShares MSCI Switzerland Capped ETF (EWL) rose by 2.0%.