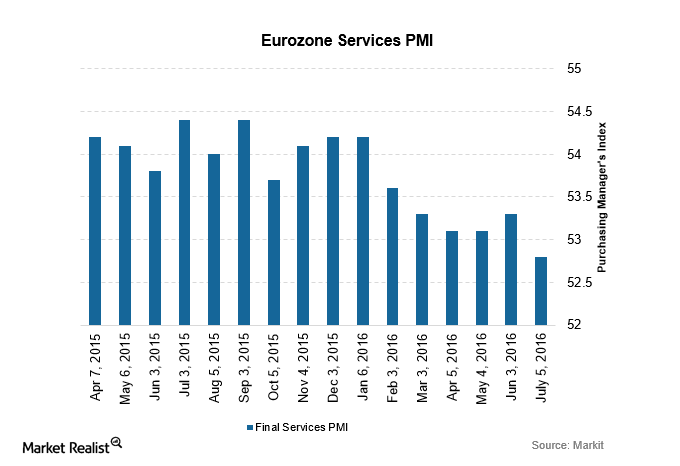 Contrasting Services PMI from the Eurozone and the UK
Eurozone services PMI beats forecast
The Final Eurozone Composite Output index was published by Markit. This was based on data collected between June 13 to June 27. The Brexit results came out on June 24—they had a say in the numbers. The composite PMI (purchasing managers' index) came out at 53.1—above the flash estimates of 52.8. The report suggested that the rise in the composite PMI was primarily due to the rise in manufacturing production. It outperformed the services sector for the first time in three months. The services PMI came out near a 1.5-year low of 52.8. Looking at the output growth in terms of nations, Ireland and Spain (EWP) posted a maximum rise. They came out at 59.2 and 55.7, respectively. The French (EWQ)(FEZ) PMI came out at 49.6. This suggested a contraction in the economy.
Article continues below advertisement
Article continues below advertisement
United Kingdom's PMI
The Markit/CIPS UK services PMI was released on July 5, 2016. Data collected included sentiments from the United Kingdom's referendum. The period spanned from June 13 to June 28. It's worth noting that the sentiments couldn't have been collected completely because 89% of the responses were before June 24. The UK (FKU) services sector was impacted more by the results of the referendum. The service sector activity fell to a 38-month low. The Business Activity index was 52.3 in June—compared to 53.5 the previous month.
Impact on markets
Looking at the performance of UK and European ETFs on July 5, the Vanguard FTSE Europe ETF (VGK) and the WisdomTree Europe Hedged Equity Fund ETF (HEDJ) fell by 3.1% and 2.6%, respectively.
The UK-based ETF fared slightly better than its Eurozone counterparts—the iShares MSCI United Kingdom ETF (EWU) fell by 2.3%. In the next part of the series, we'll look at what prompted a better performance in UK equities.
Looking at ADRs (American depositary receipts), Aviva (AV) fell by 8.4% after the property fund suspended redemption.