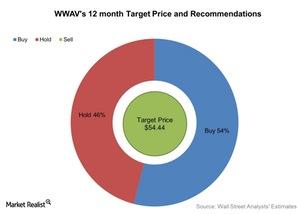 Why Did JPMorgan Chase Downgrade WhiteWave Foods?
WhiteWave Foods downgraded
On July 8, 2016, JPMorgan Chase (JPM) downgraded WhiteWave Foods' (WWAV) stock to a "neutral" rating from an "overweight" rating. This came on the back of the news announced a day earlier that France-based Danone (DANOY) would take over WhiteWave Foods. JPMorgan Chase increased its price target for WhiteWave to $56.25 from $48.
Ken Goldman at JPMorgan Chase said the reason for the downgrade and target price increase was JPMorgan Chase's belief that the takeover price offered would be sufficient to close the deal.
He said, "WhiteWave was a bit of a throwback, a food/beverage company that put more effort into innovation (much of it fun, such as Sir Bananas) and organic top-line growth (11% average last five years) than cost savings programs. Overall, it was an enjoyable company to follow over the years."
Article continues below advertisement
Other companies downgraded the stock
Wall Street analysts have given WhiteWave Foods a target price of $54.44 for the next 12 months. Around 54% of analysts rate WWAV as a "buy," and 46% rate it as a "hold." Analysts' "buy" recommendations changed after the takeover news. However, WWAV's target price has risen by 7%. WhiteWave forms 1% of the iShares S&P MidCap 400 Growth ETF (IJK).
Susquehanna Financial has given WWAV its highest target price of $58. This target represents a 3% rise compared to the company's current trading price of $56.13. Susquehanna Financial rates the stock as a "buy."
Along with JPMorgan Chase, Stifel also downgraded WWAV to a "hold" from a "buy." Wedbush downgraded the stock to a "neutral" from an "outperform" and gave the stock a target price of $56.25, up from $50.0. Atlantic Equities, Credit Suisse, UBS, and Stephens also downgraded the stock to a "hold." We'll look at how the downgrades affected the stock in a later part of the series.
Below are the target prices and return potentials for WhiteWave's peers in the industry:
Danone to acquire WhiteWave Foods
On July 7, Danone and WhiteWave Foods announced a definitive merger agreement for Danone to acquire WhiteWave Foods.
In the next part of the series, we'll discuss this deal and also find out how Danone thinks WhiteWave Foods could benefit its business. We'll also look at how WhiteWave's stock reacted to its downgrade.