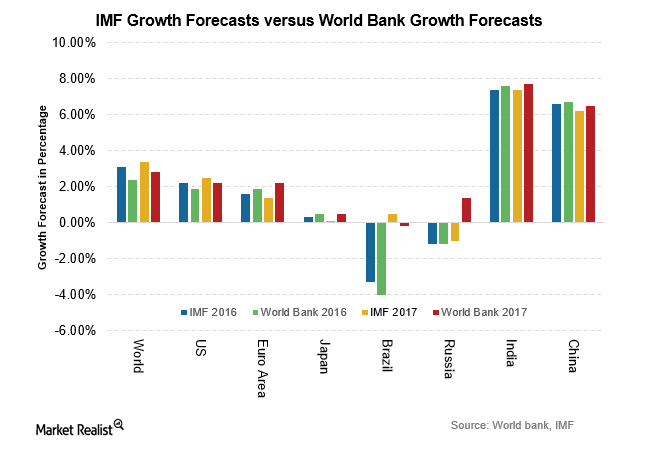 Outlook Projections: IMF Cuts Global Growth Forecasts
IMF cuts global growth forecast by 0.1%
The IMF (International Monetary Fund) cut its global economic growth forecasts, according to the latest IMF World Economic Output Update dated July 19, 2016. The cut in forecasts was expected. The previous IMF release in April was well ahead of the United Kingdom's referendum, when the IMF suggested that the global economy was evolving broadly. The cut in forecasts was primarily attributed to the Brexit vote. In the IMF's view, the vote increases the downside risk for the economy.
Article continues below advertisement
IMF forecast versus the World Bank forecasts
In this section, we'll provide a macro comparison of the global growth forecasts released by World Bank on June 7 with the IMF's release on July 19, 2016. Read Why Did the World Bank Slash Global Growth Outlook? for more on World Bank's projections.
While World Bank's projections came out before the Brexit vote, it has to be said that the "leave" campaign had a slight upper hand during the time of the release. World Bank slashed the US growth figures by close to 0.8%, while the IMF forecasts fell by 0.2%. Overall, World Bank gave a very weak outlook for global growth due to a number of factors.
Impact on the ETFs
Looking at broad-based ETFs covering multiple countries, the Deutsche X-trackers MSCI EAFE Hedged Equity ETF (DBEF) and the Vanguard FTSE Developed Markets ETF (VEA) fell by 0.35% and 0.80% on July 19. The iShares Latin America 40 (ILF) was also on a negative trajectory—it fell by 0.36%.
Looking at Asia-based ETFs, the iShares MSCI All Country Asia ex Japan (AAXJ) fell by 0.91%. The SPDR S&P 500 ETF (SPY) was trading near flat on July 19.