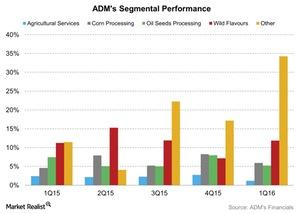 How's ADM Advancing with Its Portfolio Management Strategy?
Portfolio management strategy
As part of its portfolio management strategy, Archer Daniels Midland (ADM) sold its Brazilian sugar cane ethanol operations. Read What Made ADM Decide to Sell Its Brazilian Operation? to learn more.
Associated with this sale, the company gained almost $50 million in run rate savings in the first quarter. It also remains on track to reach the $275 million target by the end of 2016.
On June 1, 2016, Archer Daniels Midland announced the completion of the acquisition of a Casablanca, Morocco-based corn wet mill. This mill is expected to expand the company's global sweetener footprint. The company also opened its new, state-of-the-art flavor creation, application, and customer innovation center in Cranbury, New Jersey. It expects its Campo Grande soy protein complex in Brazil to start ramping up production during 2H16.
Article continues below advertisement
Article continues below advertisement
Update on Harvest Innovations
In the 1Q16, the company advanced with its strategic plan by acquiring a controlling stake in Harvest Innovations. This advancement was consistent with enhancing the company's plant protein and gluten-free ingredients portfolio. It's an addition to Archer Daniels Midland's WILD Flavors and Specialty Ingredients segment. Harvest Innovations is an industry leader in minimally processed, expeller-pressed soy proteins, oils, and gluten-free ingredients.
On April 19, Archer Daniels Midland also celebrated the grand opening of the new headquarters of National Foodworks Services—a food innovation center in Decatur, Illinois.
Completed acquisitions till date
Archer Daniels Midland completed acquisitions worth $0.1 billion in 1Q16. In its Corn Processing segment, Archer Daniels Midland closed its Eaststarch acquisition at the beginning of November 2015. It's projected to drive demand by expanding the company's global product portfolio and customer reach. Management mentioned that the integration of this acquisition is going better than expected. In the Agricultural services segment, Archer Daniels Midland recently closed its Medsoft joint venture in Egypt to grow its destination marketing capabilities.
In the Oilseeds segment, the company initiated significant expansion and modernization of the Santos Port in Brazil. The company expanded its annual storage and grain handling capacity from 6 million to 8 million metric tons. The company expects a better pricing environment in 2H16 with tighter supply and demand.
Archer Daniels Midland's industry competitors include J&J Snack Foods (JJSF), WhiteWave Foods (WWAV), and Kellogg (K). They saw operating profit of $23.3 million, $84 million, and $438 million, respectively, in its last reported quarters. The PowerShares High Yield Equity Divide (PEY) and the Consumer Staples Select Sector SPDR Fund (XLP) invest 1.6% and 1.2% of their respective portfolios in Kellogg.