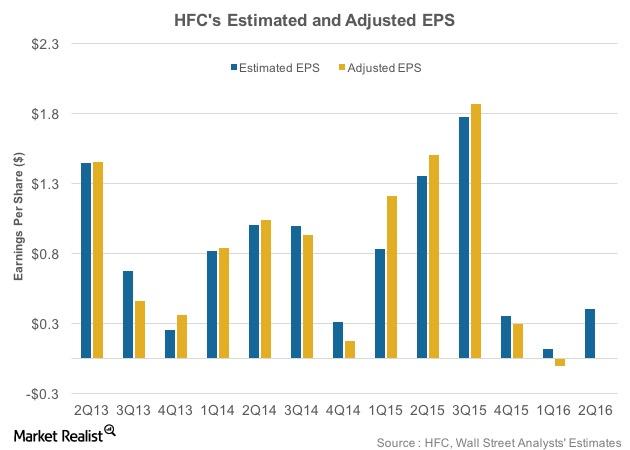 HollyFrontier's 2Q16 Earnings Expected to Outshine Those of 1Q16
1Q16 estimated and actual performance
HollyFrontier (HFC) is expected to post its 2Q16 results on August 3, 2016. Before we proceed with 2Q16 estimates, let's recap HFC's 1Q16 performance versus estimates.
In 1Q16, HFC's revenue surpassed Wall Street analyst estimates by 4%. However, HFC's 1Q16 adjusted earnings missed analyst estimates. The company's 1Q16 adjusted EPS (earnings per share) stood at -$0.06 compared to estimated EPS of $0.07. This was on account of a steep fall in HFC's refining margins.
Article continues below advertisement
In 1Q16, HFC reported earnings of $21.3 million compared to $226.9 million in 1Q15. Excluding inventory charges, HFC's net income stood at -$15.7 million in 1Q16. The fall in HFC's income in 1Q16 was due to lower operating earnings from its refining segment, partly offset by higher earnings from its midstream segment.
HollyFrontier's 2Q16 estimates are expected to be higher
In 2Q16, according to Wall Street analysts' consensus estimate, HFC is expected to post EPS of $0.35. This is 76% lower than its 2Q15 adjusted EPS. However, it's better than its 1Q16 adjusted EPS. HFC's revenue is estimated to be around $2.3 billion in 2Q16, 37% lower than its 2Q15 revenue.
In 2Q16, HFC's refining index values have risen in its operating areas in its Midcon (the mid-continent), Rockies (Rocky Mountains), and Southwest segments compared to 1Q16. This points toward strength in HFC's refining margin in 2Q16 compared to 1Q16. We'll discuss this in the next part of the series.
However, year-over-year, HFC's earnings are expected to decline. HFC's peers Northern Tier Energy (NTI), Valero Energy (VLO), and CVR Refining (CVRR) are expected to post 61%, 60%, and 87% falls in earnings in 2Q16, respectively, compared to 2Q15. The PowerShares Dynamic Large Cap Value ETF (PWV) has ~5% exposure to energy sector stocks.