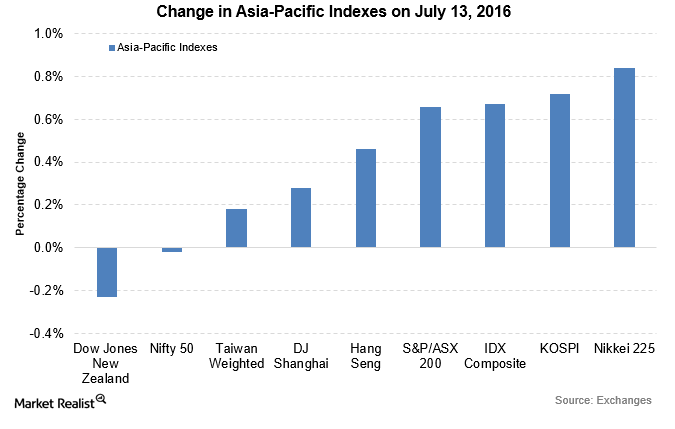 Why Are Global Markets Range Bound?
European markets are trading higher
European markets were trading on a mixed note on July 13, 2016. The German DAX fell by 0.33%, while the French CAC 40 rose by 0.09%. The contrasting movement among the global markets was primarily due to caution ahead of the Bank of England's monetary policy release on July 14.
Looking at Europe-related ETFs, the Deutsche X-trackers MSCI EAFE Hedged Equity ETF (DBEF) and the Vanguard FTSE Developed Markets ETF (VEA) fell by 0.27% and 0.08%, respectively.
Among other major indexes, the Euro STOXX 50 (FEZ)—a Eurozone blue-chip stock index—was trading flat. The Italian FTSE MIB was leading the losses among the European pack. It fell by 1.2%.
Article continues below advertisement
Asian indexes were trading with positive bias
Major Asian markets (AAXJ) were trading on an upward trajectory with limited gains on July 13, 2016. The Japanese index Nikkei 225 continue the rising trend. It started after Shinzo Abe won the elections last weekend. The Nikkei 225 rose by 0.84%. For more details on Shinzo Abe's election win and subsequent announcements, read Theresa May and Shinzo Abe in Focus as FTSE 100 and Nikkei 225 Soar.
Oceania markets were trading on a contrasting note. The Australian S&P/ASX 200 rose by 0.66%, while the Dow Jones New Zealand Index fell by 0.23%.
US markets flat ahead of the Bank of England's meeting
On July 13, the S&P 500 VIX Index fell by 3.8% as the Bank of England's meeting drew closer. The S&P 500 Index (SPY) was trading flat and the NASDAQ Composite (IXIC) fell by 0.34%. The Dow Jones Industrial Average was trading positive with a slight rise of 0.13%. For more details on the recent movement of the S&P and Dow Jones index, read Strong Rise in US Markets Continues: What It Means for Investors. The US Dollar Index measures the strength of the US dollar against other major currencies. It fell by 0.23% on July 13.